"…Parties for hosting, marshmallows for toasting, and caroling out in the snow. There'll be scary ghost stories and tales of the glories of Christmases long, long ago!"
Andy Williams needs to calm down. Yes, it's December. Yes, that means Yule. No, that does not mean we get to go outside and carol. We certainly aren't throwing any parties. I don't care who is in your Covid Bubble, do not throw a party. If you do, I will absolutely snitch on you to Krampus. And you don't want that smoke.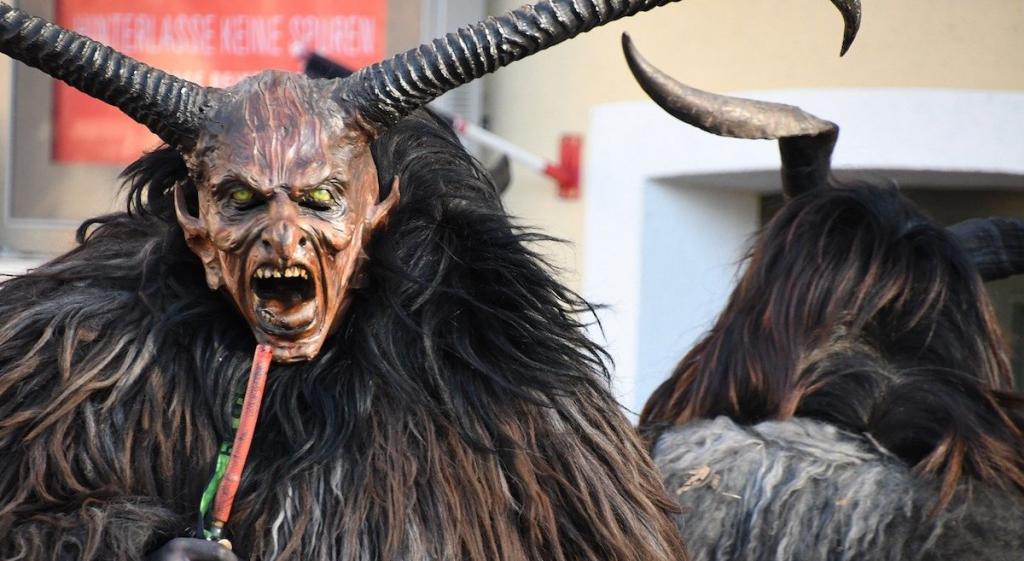 If you're unfamiliar, Krampus is a folk figure from central Europe who appears on the evening before the Feast of Saint Nicholas. Always a fun guy, Krampus appears in the streets – sometimes with Jolly Old St. Nick and sometimes alone – and seeks out naughty children to spank with birch switches and give lumps of coal. According to Wikipedia, Krampus is a hair-covered human-goat hybrid that has cloven hooves and horns. Oh yeah, he also has fangs and a long, pointed tongue that makes Gene Simmons weep with envy. I'm not going to lie; Krampus reminds me a bit of the Jersey Devil. Don't worry. I know they aren't twins. In my mind they're more like cousins. Creepy, amazing cousins that both have a cult following in the greater Philadelphia area.
See, Philly has been bringing us the Parade of Spirits (formerly Krampuslauf Philadelphia) for a decade. The event brings people in all sorts of costumes aside from Krampus – Frau Perchta has been seen once or twice – out into the streets to sing, march, and generally have a scarily good time.
Because Yule should be a bit scary, this is the time of year when figures like Ōðinn, Krampus, Berchta, and Holle roam the land and ride through the sky looking for souls. I'm thirty-seven and still shudder when I think back to the first time my father told me about Ōðinn leading the Wild Hunt out into the world on Mother's Night to find souls to take back to Valhalla with him. I am unashamed to admit that I don't look out the window on Mother's Night – Celebrated on December 20th in my home – because part of me is still a worried little girl who knows better than to tempt the All-Father on that holiest of nights.
I won't tell my son that Ōðinn- or any of the other beings mentioned – might come and snatch his soul. I will, however, tell him about Krampus.
The pre-covid plan had been to schlep down to Philadelphia for the Parade of Spirits this year. It would have been my son's first trip to Philly – a city my husband called home for several years – and our collective first time at the parade. But it's 2020, and even though the parade is happening this year, there is no way I am riding public transit from southern Brooklyn to North Philly in a pandemic. My mother didn't raise a fool.
Instead of schlepping, we are staying home and having our own Krampus related fun.
I took to the internet this morning in the hopes of finding some Krampus crafts to do with my toddler. I didn't find a single thing, which is, for lack a better word, rude. How dare you all make me make my own Krampus related crafts?
Confronted with a lack of craft ideas, I took it upon myself to create my own. Because I am friendly, I decided to share my design with you all. No need to thank me, I know I am amazing.
Below you will find the printouts for making your own janky Krampus crown(s). Making one of these bad boys is as simple as printing the sheets out – you need to print both -, coloring them, cutting them out, and then taping/stapling/gluing them together to form a crown. Protip: you probably don't need to print extra "birch crown" pieces. I have a huge head and was able to put the crown on over my giant head AND the tichel I was wearing earlier.
Once your crown(s) is complete, put it on and be awesome. Maybe get super crafty and make a paper chain to wear around as well. According to Wikipedia, that's part of Krampuses aesthetic. Why not make it part of yours?
If you do make a crown or two, please consider posting them on social media along with #PatheosKrampusnacht so we can see your work! I will post the crowns my family made as well!
I know that Yule 2020 – like everything else this year – isn't what we are collectively used to. But that doesn't mean we can't have fun and make memories. And who knows? Maybe this year will end up being the glorious Yule of long, long ago that you speak of in the future. If you make a Krampus crown or two, you might end up with scary stories to share as well.