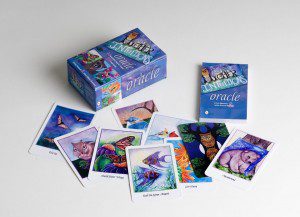 An Oracle deck is easier to use than Tarot for self-development and messages from Guides/Angels and Loved Ones on the Other Side. Higher Intuitions Oracle was created by Kristy Robinett and Johna Gibson Bowman with the main focus on animals and nature as ways to move aside an complications and annoyances which can sometimes obscure the clarity of the big picture. However, through the cards you will learn to see and gain "higher intuition."
The accompanying book includes detailed, positive messages and art that provide you with helpful ideas and divination spreads. With simplistic beauty and a touch of whimsy, Higher Intuitions Oracle helps to clear the cobwebs of indecision in order to take the necessary steps forward.
Join Psychic Medium and Author Kristy Robinett on Friday, July 19th from 7 p.m. – 9 p.m. as she not only teaches you different methods of using them, but also offers messages from angels, guides and loved ones. Note that not everybody is guaranteed a reading.
Location: Straight Farmhouse – 6221 Merriman Road – Garden City, MI
You can either purchase the cards through Amazon, Barnes and Noble or Schiffer beforehand or Kristy will have them available for $25 a deck (cash or charge).
Giveaways, light refreshments and fun!! BUY YOUR TICKET HERE!