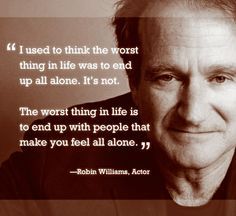 The announcement of actor and comedian Robin William's passing on August 11th shook many and it wasn't long, in the social media era, for a myriad of wildfire-like opinions and advice to surface. What I found disturbing was the stream of insensitive comments. Mental illness and depression is real and true. Suicide didn't kill Robin Williams, depression killed Robin Williams. Depression and suicide seem to sadly be a synonymous theme with comedians. They try and make light of their inner demons by making fun of them. In reality, they are just smiling through the pain and not battling or healing at all. A smile or a laugh can only temporarily hide depression, and depression doesn't discriminate – the poor, rich, male, female, gay, straight, blue and purple are all effected.
My mother was manic depressant and no matter how many times we begged her to be happy, or how many times we tried to show her how much she had around her to be grateful for, she couldn't see down the dimly lit road of depression. When I was thirteen years old, she lost her sight. Something I thought was sadly ironic. It is exhausting being a family member of someone with the disease (and yes, it is a disease), but just as exhausting for the one suffering. You can't simply tell a depressed person to be happy. You can't convince a depressed person that there is meaning in their life. I saw over and over people asking why Robin didn't get help, or vocalizing judgment on him for hurting his family by doing the selfish act of suicide. Robin did get help. For many years he got help. And although I don't believe suicide is an answer, but at that moment in time for many, living is a so called selfish act for those caught up in the depression. They feel that their tormented soul isn't just hurting themselves, but also their loves ones. And there is often truth in that because it does. When you can see potential within someone and they can't see that for themselves, it stings. Margaret Thatcher said, "You may have to fight a battle more than once to win it." Life is a constant battle, and add depression to it, the weight is even heavier.
Being a medium, I've connected many who have lost loved ones to suicide to their loves ones on the other side. I grew up in the Lutheran church and being told that anybody who commits suicide, and goes before their time, goes to hell and is punished. That isn't necessarily what I see on the other side, however. I mention in my book Messenger Between Worlds that those who take their own life have to go through a soul journey, or counseling of sorts that I call Angel Boot Camp, in order to heal. It isn't all fun and games and angel wings. In my book that comes out August 2015 – It's a Wonderful AfterLife – I go into the topic of suicide and the communication that I've had with the families and their loves ones. My experiences with those on the Other Side who've committed suicide have been as different as each individual's life. Some have regrets, and some don't. Some aren't in the best place on the Other Side, although I wouldn't exactly define it as hell, and others transition just fine, and are at peace and are happy with their decision. There is, however, no escape from our problems on this side or the next. I believe that lessons can be learned in all situations. Compassion has become a lost art in our society, which scares me. We must stop judging everyone and we must stop judging those who may be broken inside! You never know what they are facing behind that smile!
My wish for everyone is that within tragedy, suffering and sadness that you can find the rainbows. They are there, but you have to stop staring at the storm clouds. Yes, life's difficult. If it wasn't, the rainbows wouldn't be so special. If you can't find the rainbows, ask for help. If you are in crisis, call that National Suicide Prevention Lifeline at 
1-800-273-TALK (8255)
.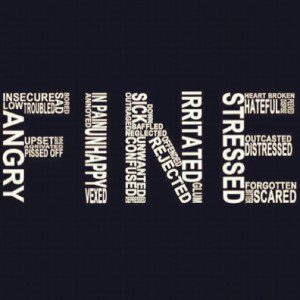 And to all those who've lost their will to fight the battle, may you find your peace and fly with the angels.
Believe, Kristy Robinett www.kristyrobinett.com
Kristy Robinett is a professional psychic medium, and has appeared on ID Network's Restless Souls, Fox News, ABC News, The Ricki Lake Show, and Coast to Coast with George Noory. In addition to giving readings, lecturing, and teaching workshops, she uses her psychic skills to assist with police investigations. She is also the author of Messenger Between Worlds: True Stories from a Psychic Medium, Ghosts of Southeast Michigan, Higher Intuitions Oracle and Michigan's Haunted Legends and Lore. Robinett lives in Detroit, Michigan. Visit her online at www.kristyrobinett.com.