Below are 5 cards from Doreen Virtue's Oracle Deck. The backs are all the same, but by using your intuition choose one of the cards that calls out most to you. This is what you will need to work on during this next month. Take a deep breath in and out. Don't second guess yourself – just choose. By trusting your own intuition, taking the advice, and following through on the actions you will be amazed by your life outcome – more fulfillment in all areas. Sure, it isn't easy, but well worth it in the end. Aren't you worth that? I will reveal your cards later today. Feel free to share with friends.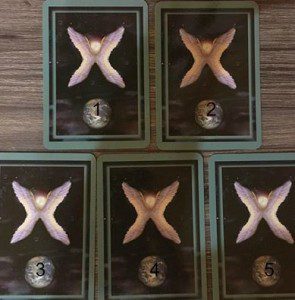 Your cards are…
.
.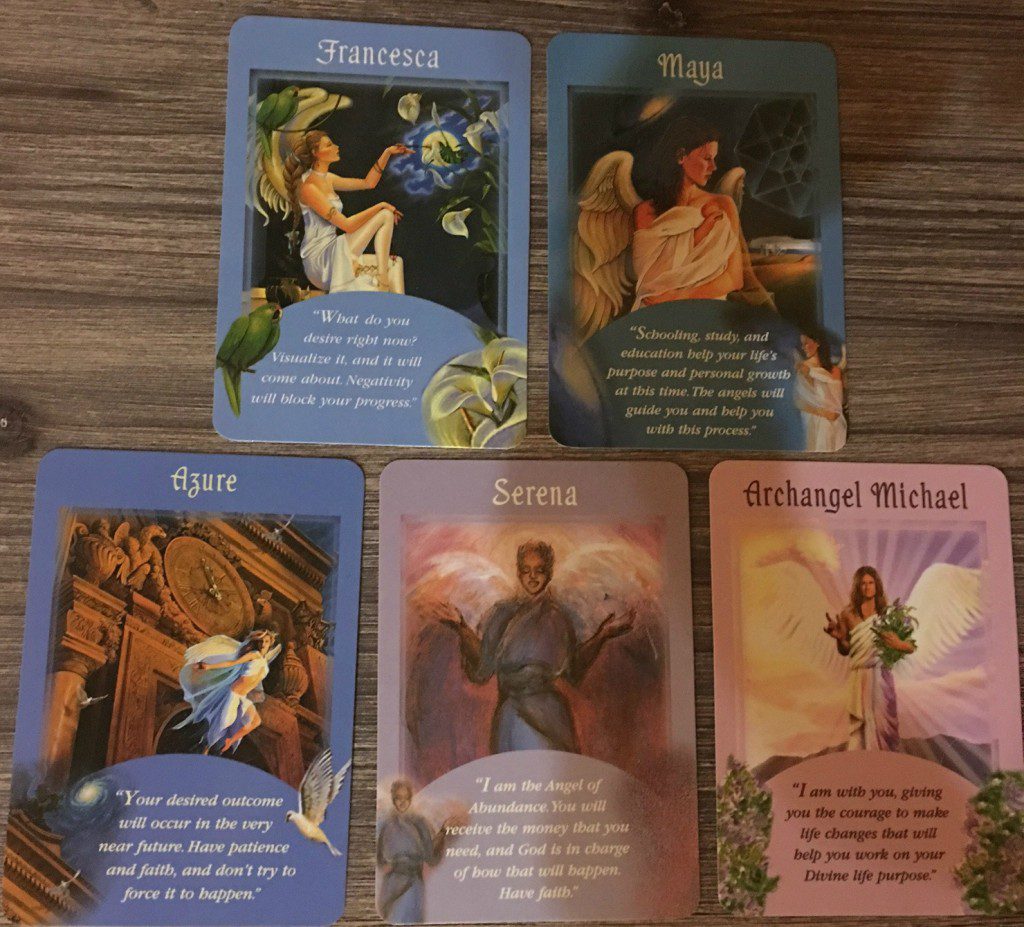 #1 – Francesca –
You have been asking God and the angels, 'What is next for me?'
Yet, we have been waiting for you to make that decision for yourself! That is why you have felt stuck lately. This impasse occurs because you are afraid of making a 'wrong' decision. We can help you to decide, but ultimately, the next chapter of your life is up to you. This is a period of your life that is unscripted.
Your desires are like a painting that you create upon the canvas of your life. Like an artist, you must decide what the theme, background, and foreground will be within your picture. Take some time out to meditate, pray upon, and contemplate this important decision. Be creative, and maintain standards for yourself. But remember: If you don't make a decision, that's the same thing as deciding that everything shall remain the same.
#2 – Maya –
We strongly recommend that you continue with your education, because the additional information and experience will accelerate the fruition of your life's purpose.
You may worry about having the means to go forward with this schooling, but we assure you that everything will be provided to you along the way.
This educational process brings you great rewards. It enriches your understanding of your spiritual power, and accelerates your memory and motivation toward your life's purpose. We will guide you to teachers, schools, books, funds, schedules, and all of the resources that are plentifully available to you now.
#3 – Azure –
Yes, you will receive your wish.
However, Divine timing means that patience and posi¬tive visualization are needed right now. Ask me to help buoy your faith so that you don't slip into negativity. You can speed up the process of answered prayers by having more faith in their inevitability. Conversely, doubts or worries about 'how' your prayers will be answered will slow them down.
Remember that the 'how' of answered prayers is up to the Divine wisdom of the Creator. Although you may feel urgency or even panic about your prayers, please trust that we angels are working nonstop behind the scenes to help you. Keep surrendering and releasing these worries and fears to God and the angels. The more that you can stay centered in faith, the more easily we can assist you.
#4 – Serena –
God is the source of all of your good.
Release all of your cares and worries to me, and I will bring them directly to God. The more that you surrender this situation to Heaven, the more open you become. Your openness—like outstretched arms—wel-comes the gifts that we bring you. When you worry, however, it closes you down. It then becomes more difficult for us to deliver your gifts. You don't notice your gifts, or you push them away.
God's infinite creativity means that your financial support will come in unexpected ways. One of the reasons why you worry is because you don't know how your money will be delivered. You can release these worries by completely relying on God's wisdom and care. Notice your repetitive thoughts, feelings, and ideas. They are our way of communicating Divine guidance to you. As you follow these Divine directives, your supply comes to you on the wings of angels, without delay or reservation. The more that you can relax and trust, the faster we can bring these gifts your way.
#5 – Archangel Michael –
"I'm protecting you against lower energies, and guarding you, your loved ones, and home."
Additional Message: "Let go of worries, as I'm surrounding you, your loved ones, home, and possessions with powerful loving light. This light repels lower energies, and attracts loving experiences. Focus on this light and love—instead of on fear—as you'll attract the object of your focus. With your mind free of fear, you have additional time and energy to devote to your life's missions. You are free when you are fearless. Know that you are safe at all times, and that my protection is flawless."
Working with Archangel Michael: Michael's chief role is to escort away the lower energies of fear. If you become worried or anxious, mentally ask Michael to bring you peace. You can also ask that he clear your home, office, vehicle, or community of toxic energies. After you call upon Michael, you'll likely notice a warm feeling. That's because he has a fiery warrior spirit. You can ask Michael to stay with you continuously, as he's able to be with everyone who calls upon him simultaneously.
Believe,
Kristy Robinett
www.kristyrobinett.com