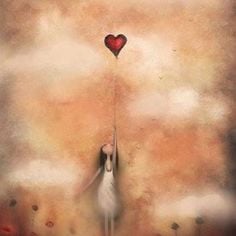 Today is my mom's birthday. Or should I say was her birthdate since she is in Heaven now.  We would be celebrating her 80 earthly years, but instead we seem to focus more on the 11 heaven years more intently. I, however, do believe that they celebrate their birthdate and their crossing-date, equally. Although we here believe the crossing date is a sad one, to those who cross, it is a gift of life, not death. No pain. No sadness. Truly living.
My mom, Sally Lou McLaughlin (Schiller), lived a fairly simple life. She would often tell me stories of her lack of toys, her fondness of music and the love she had for her family. She was shy in social settings, but opinionated and intuitive. By the age of 41, she had lost her whole family, both brothers, her mom and her dad and felt like an orphan. After that it was rare that she could see over the cloud of depression and sadness that wrapped tightly around her. "I wish there was family for you, Kristy," she would say to me. With my constant reply of, "But mom, I just need this family." But for her, it wasn't enough. It wasn't how she pictured it.
Books were her escape and when her sight was taken from her, she seemed to lose everything that she ever loved, and told me that many times. Despite having my dad, me, my sister and my brother – she couldn't move past all she had lost to see all that she had. And although there were many times I would get angry with her for sitting in the cloud of depression. Exhausted by her negativity and worry. I couldn't, and still can't, judge her because what she was going through was hers and nobody could fix it except for her. I didn't have the magic word or a potion that could bring back her family, her health or her soul and spirit.
Two days before she passed away, I sat at her bedside holding her hand. "I want to go home…," she told me as I told her how much I loved and missed her. I wiped back the tears with the back of my hand, trying hard to keep my voice from shaking. Swallowing my sobs, I reassured her that we were trying to get her home and soon. She squeezed my hand and whispered, "Not that home."
My mom started going blind when I was 12. It was life changing for us all and she felt like a burden most days. My mom never saw me in a prom dress. She never saw me walk down the church aisle to get married. She never saw what my kids looked like. Or showed me how to put on makeup. She never drove. And although she never believed in herself, she showed me how to fight through adversity and reminded me always to believe in me.
She always wanted a house by the sea. She dreamed of Maine (even though she never went there), loved an English or Irish accent, and loved her romance novels and adored jewelry. When she became blind, she would tell me that life was too short for itchy clothes or smelly people and to use all my senses and enjoy them.She loved Cool Whip more than cake and lots of sparkles and bling. She always loved the sun, but had Lupus and couldn't be in it, and wanted to be by the water, toes in the sand and a book in her hand.
Last night I had a visit with my mom in it and I asked her how she was celebrating her birthday. She told me she was going to see Neil Diamond in concert. I laughed and told her that he wasn't on the Other Side and she said she was just going to go haunt him at his house and we laughed. My mom rarely laughed, and to hear her laugh was heaven in itself. When I woke up this morning I looked outside to see a female cardinal sitting there on the fence, looking up at my bedroom window and I said happy birthday to my mom again. I felt like it was a sign, a heaven hello. Something we are gifted with often but are too busy to notice, and yet they want to send their love from heaven. They want to send us reassurance, signs, and blessings. Are you paying attention to the license plate in front of you? Or the billboard with your loved one's name on it? Or the time that just so happened to be your birthdate, or another date that has meaning? These subtle signs are quite simply your love from heaven.
I'm sure that my mom's birthday today will be perfect. She's surrounded by her family, who she missed dearly when she was here on earth. I imagine her heaven is happy with an ocean breeze and her sitting on the porch of a quaint cottage surrounded with wildflowers with Neil Diamond playing in the background.
When you feel that missing in your soul know that is your loved ones on the Other Side telling you that they are trying to send you a sign to let you know that they love you.
Happy Birthday, mom. I still miss you.
Believe,
Kristy
Kristy Robinett is a professional psychic medium. In addition to giving readings and teaching workshops, she uses her psychic skills to assist with police investigations. Kristy lectures across the country and has appeared on the ID Channel's Restless Souls, Fox News, ABC News, and Coast to Coast. She is also the author of several books. Visit her online at KristyRobinett.com.