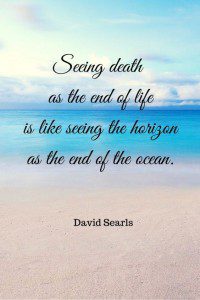 Excerpt from Kristy Robinett's newest book out August 8th – Messages From a Wonderful Afterlife: Signs Loved Ones Send from Beyond
As death draws near, many experience visits or visions from their friends and relatives who have crossed over. As the physical body begins to pass, those visits often become more frequent. They just don't feel real, they are real. These visions or visits have varying
time lines from months before a passing to hours, but they all have a constant in that they bring amazing peace to those with a foot in
both worlds. It is the living who are often confused.
Deathbed Vision Tips
• Don't tell the dying that what they are seeing, hearing, or experiencing
isn't there. Instead, ask your loved one for more
information on what they are experiencing, such as, "Mom,
what is Dad telling you?"
• Or say, "Tell me more. What is it that you see?"
• Offer them comfort in their experiences. "I'm so happy Dad is
with you, Mom."
• Don't ever underestimate what your dying loved one is seeing
or going through. Keep an open mind. Just as every birth is
unique, every death is unique as well.
Have you ever witnessed a loved one dying who's seeing the Other Side? They might see them physically, they might see a light, or hear their name being called as they are being helped home.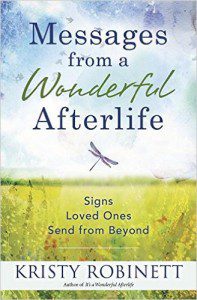 To order Kristy's newest book visit HERE.
About Kristy – Kristy Robinett (Michigan) is a revolutionary psychic medium, international author, and inspirational speaker. In addition to giving readings and teaching workshops, she uses her psychic skills to assist with police investigations. Kristy lectures across the country and is a frequent media commentator, appearing on the ID Channel's Restless Souls, Fox News, ABC News, Coast to Coast, and more. Kristy Robinett is also the author of several books, including Tails from the Afterlife: Stories of Signs, Messages, and Inspiration from your Companion Animals (Llewellyn, March 2018); Messages From a Wonderful Afterlife: Signs Loved Ones Send from Beyond; It's a Wonderful Afterlife: Inspiring True Stories from a Psychic Medium; Forevermore: Guided in Spirit by Edgar Allan Poe; Messenger Between Worlds: True Stories from a Psychic Medium; Higher Intuitions Oracle; Ghosts of Southeast Michigan; and Michigan's Haunted Legends and Lore.Visit her online at KristyRobinett.com.