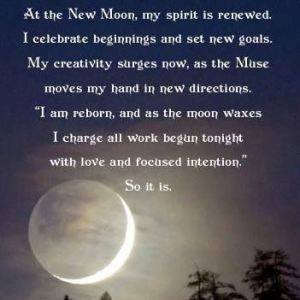 Happy New Moon! The Moon is in Leo, which makes it the best time to set goals, look at moving, organizing, new job, creative undertakings, new romance (or relighting the flame on a current), or anything else that you want to bring into your life. This is a time to have self-confidence and go after what calls to you – taking chances, having faith and believing! It is best to write out your wishes and do your check before 2:31 pm EST today, August 21st. New Moons are time to plant the seeds of dreams, fertilize the seeds of dreams and carefully care for the dreams until they come to fruition.
With the eclipse, it adds in some extra magical elements. This eclipse acts as an extra oomph of self-confidence and taking the leap to go after what calls to you – taking chances, having faith and believing! If you've felt stalled, this moon will give you the push you need.
Here are some good "exercises" for you to do after, but within the first eight hours of the new moon!
NEW MOON WISHES:
Each month on the new moon write up a list of 10 wishes. It can be anything from romance to finances and anything in between.
Don't write more than 10 wishes AND hand write (don't type, it makes it more personable).
If you miss the first eight hours, you can still make your wish list within the first 48 hours of the new moon.
NEW MOON ABUNDANCE: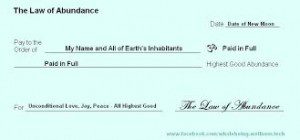 Writing an Abundance Check is an exercise you can use to create more abundance in your life and the check is to be written within 24 hours of each New Moon.
On your check where it says "Pay to," write your name.
On the same line where you would fill in a dollar amount write "Paid in full."
On the next line where you would write out a dollar amount, write "Paid in full." [Some say it works better if you don't add the squiggly line.]
On the signature line, sign your check: "The Law of Abundance"
If you don't have checks, or don't; want to waste one, you can simply create a handwritten one.
It is not necessary to put a date on the check (although I do). DO NOT write a specific dollar amount on the check. Then put the check away in a safe place and forget about it. You might even want to burn it on the Full Moon (I will get to that on the next Full Moon).
Allow the Universe to take over from there. Yep, that silly control thing. Let it go!
Believe,
Kristy Robinett
Psychic Medium and Author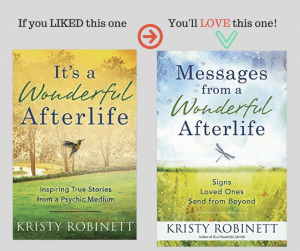 Kristy Robinett (Michigan) is a revolutionary psychic medium, international author, and inspirational speaker. In addition to giving readings and teaching workshops, she uses her psychic skills to assist with police investigations. Kristy lectures across the country and is a frequent media commentator, appearing on the ID Channel's Restless Souls, Fox News, ABC News, Coast to Coast, and more. Kristy Robinett is also the author of several books, including Tails from the Afterlife: Stories of Signs, Messages, and Inspiration from your Companion Animals (Llewellyn, March 2018); Messages From a Wonderful Afterlife: Signs Loved Ones Send from Beyond; It's a Wonderful Afterlife: Inspiring True Stories from a Psychic Medium; Forevermore: Guided in Spirit by Edgar Allan Poe; Messenger Between Worlds: True Stories from a Psychic Medium; Higher Intuitions Oracle; Ghosts of Southeast Michigan; and Michigan's Haunted Legends and Lore.Visit her online at KristyRobinett.com.