Last week I gave several small gallery readings. I typically have a couple restless nights after every gallery session that I do. I keep the veil open to the other side to continue to pass along messages. Sometimes they are from those in attendance and sometimes not – I simply give them a voice. Gallery sessions, or audience readings, to me are a lot like flipping through the television stations at a rapid pace, and so are my nighttime visits. They are at the drive-in-window, so to speak, and sharing their information with me as quick as can be until by guides yell out "Next" and move them along allowing the next person to come through. I always write them down, or record them into my phone – these were my visitors and their very quick messages:
Patrice/Patricia – something to do with Phyllis was with her as well. She showed me a rosary, which is often my sign that they were Catholic or had faith. She showed me that she was ready to pass and had suffered and was done. She didn't want to be a burden to her sons and their wives and was at peace with her passing. She showed me this quiet energy – she was sitting by a lake doing a crossword puzzle.
Lillian – She had bright blue eyes and silver hair. She said she was met by her husband who'd passed well over 10 plus years before. There was something about a great-grandchild that was born around her birthday.
Marilyn – She loved her cabin in the woods. She loved her books, and her tea, and her husband she met on the other side, and her family she left. She was easy going, and loving, and she left without any regrets. She showed me butterflies and gardens of flowers.
Larry – He said that he had cancer and passed in hospice, surrounded by family.
David – He grew up in a large family, as in like a dozen kids. He loved the outdoors, loved the Detroit Tigers, and giving hugs. He looked to be only in his late 50's/early 60's and wasn't ready to pass, but was very happy go lucky and said he was always giving signs to his kids and grandkids.
Leo – A spitfire of a man. He was a hard worker and demanded the same of everyone around him. Good with his hands, he wasn't always the best at communicating and apologized for not knowing realizing what was really mattered. He worked hard to put money in the bank, all the while forgetting that his wife and kids needed his love and his time. He looked to be in his 70's and he said he lived a long life, but felt like nobody even know him.
Christine/Christina – She was in her 40's and passed from an accidental overdose. She said she was with her kids always, and was so sorry she didn't clean up her act. She was good at putting on a good front. She looked beautiful.
Jake/Jacob – He was younger and said he killed himself. He was artistic, poetic, and a sensitive spirit. He didn't realize how much it would hurt him on the other side to see how much his passing hurt his family and friends.
Walter – He showed me a flag, which is my sign of military. He also showed me alcohol and that was a huge problem with his life. He apologized for being a jerk. He married his first love, though, and had beautiful children. He showed that his wife was still here, but there was (maybe) a daughter or granddaughter with him on the other side.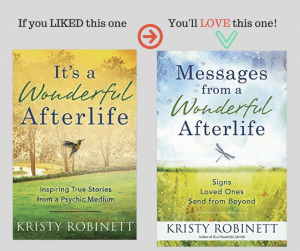 Heaven isn't some faraway place where you will only meet your loved ones when you pass away. Everyone has a direct line to heaven you just have to learn the right number.
Believe,
Kristy Robinett
www.kristyrobinett.com