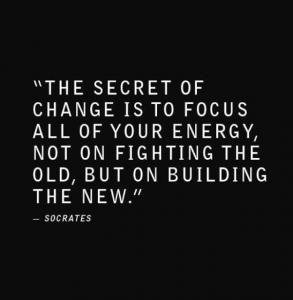 Friday evening my husband and I drove home and was welcomed by a huge orange colored moon.
"Look, it's a harvest moon," Chuck exclaimed.
"Nope, not yet," I shared. "Our harvest moon is next month and we aren't in a full moon cycle. The moon is waning."
So what is this?
The color of the moon is often associated with atmospheric changes. Michigan is seeing moderate temperatures. Florida is seeing a looming hurricane. The west coast is seeing wildfires. Mexico had an earthquake. There was a lightening cloud in California and there are reports of Irma literally sucking up the water and away from shore. All of this effects everything. It effects our emotions. It effects our health. It effects our weather. It effects our moon.
Last night as we headed home from a night out, we again rounded a corner and there was the waning moon staring at us from an open field, not as large, but blood red in color.
The moon can have an orange, pink, or red color at any time of the year, although we sometimes see it more during the autumn. The colors of the moon occurs when there's a lot of dust, smoke, or pollution in the atmosphere. But does the color of the moon have another message associated to it?
Some believe it's a Biblical message of the end of times. Others believe it to be a warning. Some believe that it is a spiritual message of awakening, to be aware and to pay attention. So not the end of times as in an Apocalypse type way, but the end of times as we know it. It is a re-build time, which is pretty consistent with those in Texas, the Caribbean, and Florida who will have to do just that by means of hurricanes.
For the next couple days our energy is in the astrological sign of Taurus, which can often bring up turbulence. You might feel exhausted, tired, moody and some even sick/depleted. The mood is swinging like a possessed pendulum. If at all possible, get takeout, light a candle, watch television or read a book and call it an early night. It is, however, important to take time to focus on positive outcomes, both worldly and in your personal life. Help your neighbors. Send out prayers. Encourage one another. Send out love. Be careful not to judge or over react. And know that beating yourself up or criticizing others helps nothing. Instead this is a time of focusing on what can be done to help.
So take some moments to see what message the moon may be whispering to you. What is it that you can do to help improve your life?
Believe,
Kristy Robinett
www.kristyrobinett.com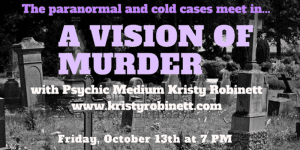 If you are interested in cold cases and the paranormal then this special event is for you. Kristy Robinett, a psychic profiler and psychic detective, will choose several cold cases from the area and utilizing an array of psychic and paranormal techniques, and as a large group, we will attempt to obtain information in a sensitive manner.
This event WILL be filmed in order to possibly help law enforcement, and you will be required to sign a release form noting that your name and contact information may be shared with detectives.
A portion of each ticket will benefit Crime Stoppers and American Red Cross for Hurricane Recovery.
No refunds.
Treats will be provided.
$100 – You are guaranteed front row and called on the stage, and will receive Kristy's newest book 'Messages from a Wonderful Afterlife'.
$75 – General Admission ticket and Kristy's newest book 'Messages from a Wonderful Afterlife'.
$60 – General Admission ticket.
To purchase tickets visit https://www.eventbrite.com/e/a-vision-of-murder-tickets-37677030011
DATE AND TIME
Fri, October 13, 2017
7:00 PM – 10:00 PM EDT
LOCATION
Historic Howell Theater
315 East Grand River Avenue
Howell, MI 48843