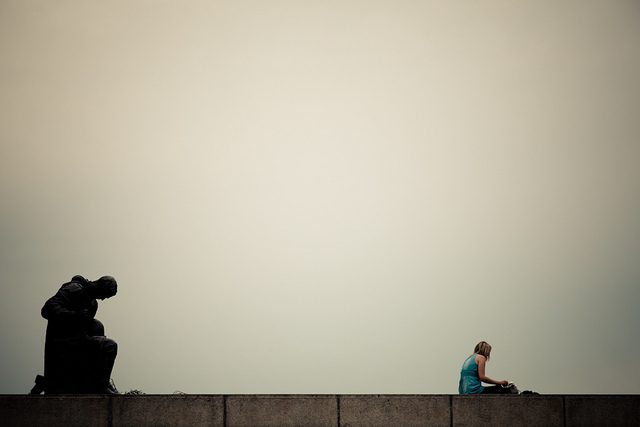 With the declaration, by Pope Francis, of this year as a special Jubilee Year of Mercy Catholics all over the world are being called to demonstrate what is meant to be that chief Christian virtue: Mercy.
And if you, like most of us, are up for adopting a soon-to-be-shamefully-abandoned New Year's resolution then this is the perfect one for you: have mercy.
Have mercy.
To say that Christians should be known for their mercy goes, I guess, without saying. Mercy, Pope Francis says, is "the beating heart of the Gospel." It's everywhere in there. Likewise for the Epistles, the letters of the apostles, and it even shows up in some measure in the Old Testament, nestled between the outrageously vengeful bits, of course.
Following from that, to say that Christians are actually known for their mercy would be, put mildly, an extreme exaggeration.
It would be stretching it.
It would be rather like the punchline of some ill-conceived joke delivered with gusto.
Christians being known for showing mercy?
That's like saying Russians are known for their national abstinence from alcohol!
See what I mean?
To imagine Christians like me as merciful people would require a very vivid imagination so it's kind of remarkable to reflect, on this special Year of Mercy, on the fact that we are actually supposed to be merciful.
In his declaration of the Jubilee Year, our Holy Father delivered some poignant zingers like this,
May the balm of mercy reach everyone, both believers and those far away, as a sign that the Kingdom of God is already present in our midst!
And, quoting St. Thomas Aquinas,
It is proper to God to exercise mercy, and he manifests his omnipotence particularly in this way.
And,
The mercy of God is his loving concern for each one of us. He feels responsible; that is, he desires our wellbeing and he wants to see us happy, full of joy, and peaceful. This is the path which the merciful love of Christians must also travel. As the Father loves, so do his children. Just as he is merciful, so we are called to be merciful to each other.
Like God is merciful, says Pope Francis, so should we be.
We're to be a sign of God's mercy on earth. A miserable, tangible sign of his omnipotence.
Really? Because that sounds hard.
It's hard to live out our Christian lives in actual tangible ways; how much easier is it to merely pay lip service and show up every Sunday.
But God demands more, we know this, and the Holy Father intends to hold us Catholics accountable. As the Vicar of Christ, he serves in an important role to remind us, to move us forward, and to call us to greatness.
Great, right?
So we're called to show mercy.
Because we don't.
Even in the little things.
We're called to show mercy to our neighbours whose sidewalks I have to cross only with a running start because I've got the baby in the stroller, the dog on a hands-free leash, and they haven't shovelled yet following great winter blizzard from two days ago.
We're called to show mercy to the pompus gentleman who budded in front of me, and the baby, as we waited to pay for our groceries on the day before Christmas Eve half an hour past nap time (and in a little bit of a rush).
We're called to show mercy to the clerk at the checkout whose adeptness at remember produce codes leaves something to be desired, the gal at the drive thru who messed up not only one but both of the hot beverages I ordered, and even the hoverboard hovering priest (or at least forgive his singing).
And, maybe most difficult of all, we're called to show mercy to ourselves.
This is where it must begin: the plank in our own eye, then the splinter in our neighbours'.
As Christians it should go without saying that we're to be marked by mercy, but it doesn't.
We aren't, sadly, the people of mercy that we were once known as.
We aren't, sadly, the people of mercy that we're unreservedly called to be.
We aren't, honestly, even close.
But we can begin to move in that direction.
This New Year's Eve, in light of the mercy that Christ has shown to us, and in the spirit of the Jubilee, the one New Year's Resolution that every Catholic ought to make is this: To have mercy.
And, yeah, like that diet you've begun every year now for a decade, it won't last.
But maybe, on a wing and a prayer, this year it might.
Maybe,  if we all pull together, we can muster up a real manifestation of mercy.
Maybe we can begin to change our reputation.
Maybe.
It's probably worth trying.