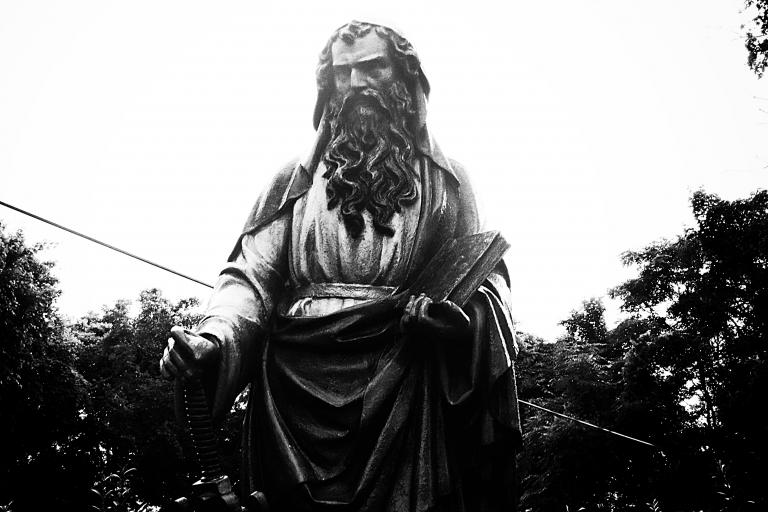 I recently recorded a podcast episode with my good friend JonMarc Grodi. We talked about the saints and, in particular, how we can have a relationship with our Christian brothers and sisters who have gone ahead to their reward.
It was a remarkable conversation and I highly recommend you give it a listen but it impacted me, in the following weeks, in a way I did not expect.
I've written about the saints before, it's not new territory for me. In fact, one of the first major issues I had when I was digging into the history of the Catholic Church was the idea that Catholics worshipped the saints. Spoiler alert: they do not, as I've written many times before.
But that's not what's been on my mind lately.
After the episode was done, JonMarc stuck around for a bit and we chatted once I'd stopped recording. As we talked we began to share our own favourite "saint stories" and, if I'd still been recording, it would've made a great episode all on its own.
JonMarc shared how St. Anthony was key in bringing him and his wife together. I shared how, once, when I was just beginning to explore Catholicism I was encouraged to ask St. Therese of Lisieux to "send me a flower" to let me know that she was praying for me. It was a silly notion, in hindsight, but literal seconds after I prayed it a picture came on the TV newscast I was watching: a woman with an oversized daisy knitted into the front of her winter hat.
It couldn't have been more obvious. It was a giant flower.
I love this idea of saints being in relationship with us.
It seems, at best, a bit goofy. At worst, rather cultic. But as devout, Jesus-loving Catholics will tell you, it is very much the reality of the Catholic life.
In a similar way to God chasing us down, pursuing us like a Hound of Heaven, because He loves us that much and wants to know us more—so too his most wonderful creations: the saints.
If, as Catholics believe, the intercession of the saints is real and they are in Heaven, eternally, with God right now then they can pray for us, they can help us, they can even, by God's grace, interact in a kind of tangible way. This isn't magic; it's the Communion of the Saints and it's been the belief of the Christian Church since the very beginning.
And, lately, I think I'm being stalked.
It began innocently enough with one particular saint meme that was being shared around Facebook. But then I encounter that same saint, again, in a book that I was reading. It was a completely unrelated topic, and I was surprised. And then, he popped up again on Twitter. And a friend wrote an article about him. And then a sister, in a community near our house, took her vows on the weekend and chose this saint as part of her new, religious name.
It wasn't even his feast day, not even close, and he wasn't an incredibly popular saint.
This was all a little odd.
Uncanny.
And then I got an e-mail.
It was an e-mail on a completely unconnected topic and I read it with interest until I got to the end. It was signed with the sender's name, their job title, and where they worked.
And can you guess the name of their employer?
It was an official apostolate for the very same saint. A large centre, custodian to a number of his first-class relics.
Did this saint get so tired of trying to send me a sign that he, quite literally, sent someone who worked for him to get my attention?
I had to pick my jaw up off the floor.
I sucked in a very deep breath and closed my e-mail. I opened Facebook to double check the name and the employer and before I could type a thing my newsfeed loaded…
The saint.
Front a centre was a quote from a theologian friend of mine juxtaposed with a giant black and white picture of the very same saint.
It was like winning the lottery and going home to find a brand new car in your driveway too.
I decided it was official: I am being stalked.
And it's kind of incredible.
See, if the saints are as alive as you and I except in the presence of God then they can take part in our lives in a kind of supernatural way. They can pray for us and, the Catholic Church affirms, live amongst us in this kind of a relationship. And this is exactly, I think, what the Church has in mind.
This particular saint is praying for me, and he is letting me know. He is rooting for me. There is something cooking up there, some good thing in store, and he is working hard to get my attention.
"Just you wait," it feels like he's saying, "Something good is coming your way. God has big plans."
A kind of supernatural affirmation of God's promises, I think.
And, of course, a hardened skeptic could dismiss it all as wild coincidence. You see what you want to see and filter out the rest. Or worse, it's a demonic influence trying to steer my attention away from God and onto merely mortal humans. But, I don't think so. Far from distracting, these tiny little coincidences (and big coincidences too!) are refocusing my attention on God's divine plan. Like a poke in the side, a firework going off somewhere near by, these little interactions across the veil are causing me to sit up straight, to listen more carefully, to pay attention. What's God doing here? What's going on? What am I being shown?
Why does it feel like all of these interactions are leading me towards something incredible; reminding me to sit tight and listen closely? What is God drawing me closer for?
After all, in all ways and always, the saints are there to point us to Christ, to bring us closer to Christ. That was their goal in life and, it must, remain their goal in death too.