Fall is here!  Well, it's been here for about two weeks now.  It is gorgeous.  It's what we call "jacket weather", the air is crisp, although when you stand in the sunshine (which has been bountiful that last few days) it is almost hot.
Some of the trees are just starting to turn.  One thing I love about our street is that the changing of the leaves is drawn out, due to the variety of trees in the front yards.  It starts with my neighbor's tree, which is flaming right now, crimson red and a deep yellow.  It's a revelation every year.  Then the trees in front of my house start to turn.  And when my neighbor's tree has shed all of it's leaves, there will be others on the street that are just beginning to turn.  I'm going to make a point of learning the names of the trees as they turn.  I know, a so-called Pagan that can't tell an Oak from a Beech.  Well, this year I am remedying that.
The corn in the fields that hasn't been harvested is almost all yellow husks now, with just a little bit of green leaf.  I haven't heard the flocks of geese yet, but they will be here soon.  The air is crisp and clear, and the world feels so very much alive.
Winter here doesn't really come around till near Christmas, when we usually have our first snow.  And when the leaves are all gone, I'm going to take solace in the two holly bushes I planted this spring.  I love the fall.  I grew up in Brown County, Indiana, which is a kind of tourist trap for people who like the country rustic ambiance.  I've heard people come there just to see the trees.  I miss it.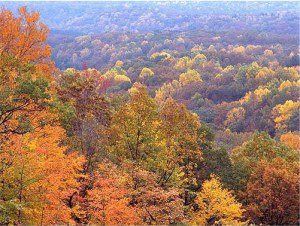 Autumn's all too brief though.  The falling of the leaves sometimes only lasts a few weeks.  And then it's just gray and more gray for months on end, while the winter drags on into April.  I'm going to enjoy it while I can.
Today I took a break from work and walked the couple of blocks to a small pond surrounded by trees.  It's man-made, but beautiful nonetheless.  Something about the reflection of the colorful trees in the still water sings to my soul.  I can't wait until the geese arrive and I can recite Mary Oliver:
Whoever you are, no matter how lonely,
the world offers itself to your imagination,
calls to you like the wild geese, harsh and exciting –
over and over announcing your place
in the family of things.