The Wild Hunt arrived here in Chicago-land region this week.  We had one beautiful warm day, and then the wind came and the cold.  All the leaves were swept off the trees in one day.  Just in time for our family mid-Autumn celebration.  Not to mention that the days are getting noticeably darker, a process which will be accelerated by the shift back to Standard Time next Sunday.
I love it when the weather actually cooperates with my plans for family rituals.  Ideally, the seasons would be turning our Wheel and not the other way around.  I'd like to celebrate the beginning of fall when my kids first notices the geese flying south or the beginning of spring when they first notice the buds on the trees, but the practicalities of scheduling a busy family make that difficult.  We always celebrate on weekends for this reason, but that means that we are usually a few days (or more) off from the rest of the Pagan community.
I don't think this is a problem for our family practice, but I think I need to be more rigorous about my own personal practice.  Regardless of when we hold our family celebration, I need to have my holy day on the day that I have decided to have it, regardless of whether it is convenient.  Convenience and sanctity sometimes conflict, but in my personal practice, I think I need to give more emphasis to the sanctity.  (By the way, thanks to Peter Beckley for his post that reminded me of this.)  I may not be able to time my family celebration with the onset of the gusty winter winds, but I can do that in my private practice.
Speaking of my family celebration, we did a shortened ritual this year because I wanted to celebrate before the kids went trick or treating.  I wanted to make the trick or treating an extension of the ritual this year.  I like to think of all the trick-or-treaters as part of the Wild Hunt and the candy they get as offering people make to the Hunt.  I like keeping with the theme of Halloween for our mid-Autumn celebration, even if we end up celebrating it on another day.  I've written about making Halloween a holy day before.  For me, All-Hallows is not about honoring our ancestors.  It's about honoring all those things that we shun the rest of the year: our individual Shadows and our collective Shadow.  It's about honoring death, as in our own death, coming to terms with it.  For me, All-Hallows is not a Pagan All-Souls Day.  It's a Pagan All-Saints Day, a kind of celebration of all the (conveniently) forgotten gods, the little goblins and boggarts that we hide away in our closets.
My wife asked me a week or so ago if the Pagans have anything special going on for Halloween.  I just stared at her.  It turns out that she was really asking whether the local CUUPS chapter was doing anything this year.  But I thought she was actually asking if there was anything Pagan about Halloween.  Halloween is the most Pagan national holiday we have.  (Christmas/Yule is a close second.)  It's always struck me as strange when contemporary Pagans don't want to go with the flow of Halloween.  If I want to honor my ancestors, then I would do it on Novemeber 2, All Souls Day.  To me, All Hallows is for Death, not the dead.
Anyway, enough of my soapbox.  Our family ritual went well.  I changed it up a little from last year's ritual.  Instead of "The Wolf" by Fever Ray, during the ritual chase this year I played Florence + Machine's "Dog Days Are Over".  I thought the lyrics were perfect for a mock run from the Wild Hunt:
The dog days [i.e., of summer] are over
The dog days are done
The horses are coming so you better run
Run fast for your mother run fast for your father
Run for your children for your sisters and brothers
Leave all your love and your longing behind you
Can't carry it with you if you want to survive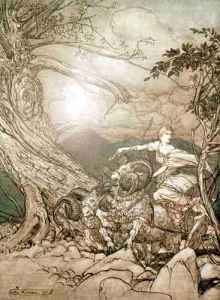 Also, this year, instead of the offering of wine to symbolize the "blood harvest", I gave everyone a pomegranate which we cut open.  Each one of us then dug our fingers into a pomegranate half and pulled out the juicy seeds which we then squeezed over the gravestone of my great-great-great grandfather that I have in the garden (that's another story).  As I did it, I could imagine I was really digging into a heart, and it was almost as messy.  My kids, who have been raised in a part-Mormon household, don't really relate to wine, so I thought the pomegranates would be better.  Using pomegranates meant that the kids could taste of the offering as well — something I always like to include.  And then there's the whole Persephone symbolism, which fits with this time of the year: the Wild Hunter chases the Goddess of Summer (Kore) to carry her down to the underworld to make her queen of the dead (Persephone).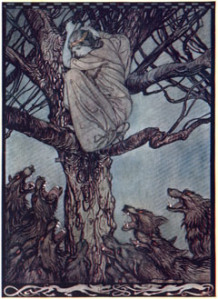 I did not forgo the wine in the personal ritual though.  Wine is just that much more powerful a ritual element to me now for it having been forbidden to me since I was raised Mormon.  My personal ritual is a simple libation.  I went to my sacred place in my backyard (where where the gravestone is, under the one mature tree we have, and next to the strawberry patch).  I lit a couple of candles and placed them on the gravestone (now strewn with pomegranate seeds), and then sacralized the space with these words:
This is my sacred fire.
This is my holy place.
These are the words of my prayer.
Then I read this text which is combined from the Lay of Diarmid and a quote from Annie Dillard:
Great is the price that has been paid.
Yesterday green was the hill where lovers played.
Tonight it is red as blood and white as bone.
The sea is a cup of death and the earth is a bloody altar stone.
I then poured a red wine offering onto the ground.  I then closed with this invocation which I took from Macbeth:
Come to me!  Come to me!  Come to me! …
Though you untie the winds, and let them fight
Against the churches; though the yesty waves
Confound and swallow navigation up;
Though bladed corn be lodg'd, and trees blown down;
Though castles topple on their warders' heads;
Though palaces and pyramids do slope
Their heads to their foundations; though the treasure
Of nature's germins tumble all together,
Even till destruction sicken …
Come to me!  Come to me!  Come to me!
I love this quote.  I see a reference to the Wild Hunt ("untie the winds"), a little cathartic sacrilege ("fight against the churches"), and a reference to the Dying God ("bladed corn"): perfect for All Hallows.  And I like leaving the ritual open ended: a feeling of foreboding prevailing.