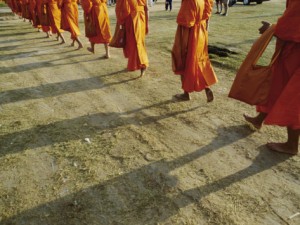 Single File Spirituality?
When I was little, in Sunday school, we would sing these words to the hymn, "I Am a Child of God":
Lead me, guide me, walk beside me, help me find my way …
By the time I was an adult and met my wife, though, I had a new mantra:
Lead me, follow me, or get the hell out of my way.
I applied this attitude to all aspects of my life, including religion.  It took being in a relationship with my wife to realize that this way of being in the world excluded the possibility of partnership, of walking side by side, hand in hand, with someone.  But while I was Mormon, I very much understood my relationship with divinity to be a one-on-one proposition.  I believed that, ultimately, we stood alone before the Divine.  Jacob's Ladder only had room for one person at a time, so to speak.  I did not even realize, for a long time, that there were other possibilities, other metaphors.
Two archetypes of religious participation
Part of this was a function of being a Mormon raised by converts in the Midwest, far away from the Book of Mormon Belt.  It was not until I started to really get to know Mormons from Utah — multi-generational Mormons — that I realized that there were other ways of being Mormon, that for some people being Mormon was a matter of blood, not choice.
I've written before here about the different archetypes for Mormon participation.  One of those archetypes is Joseph Smith, the founder of Mormonism, who was a model of religious heterodoxy.  Smith, at a young age, wanted to know which of the Christian sects to join, so we went into the woods to ask God for himself — to have a one-on-one confrontation with the Divine.  And when he came out of the woods, he decided not to join any of the existing churches and eventually started his own religion, outside the religious establishment.  As a child of converts to Mormonism, this was the archetype that I was nursed on, one that privileged personal revelation over institutional authority every time.
When Joseph Smith died, his successor, Brigham Young, led the Mormon pioneers across the plains to the Utah territory.  There, separated from the rest of America, the Mormons forged a place of their own out of the desert, guided by Young's authoritarian hand.  (This shift in leadership style is called the "routinization of charisma" by sociologists.)  Practicing polygamy (until 1890) helped reinforce the cultural boundary that circumscribed the Mormon community.  Living under those conditions, belonging to the community was a matter of survival, and obedience to religious authority was not optional.  My wife is a descendant of these early Mormon pioneers and has polygamist ancestors on both sides.  This is the Mormon archetype that my wife grew up with, one that invariably privileged community over individuality.
I think these two archetypes may apply to Paganism as well — except maybe the archetypes would be Gerald Gardner and perhaps Doreen Valiente.  What's interesting is that people who embrace one or the other of these archetypes will likely take it for granted and may not even be aware that there are other ways of being religious.  Recently, when I was attending the Sunstone Symposium in Salt Lake City (a forum for current and former progressive Mormons), one of the speakers said something to the effect that community is at the core of Mormonism.  The speaker said it in a way that suggested he expected his audience to understand that this was axiomatic, but it was not for me, and I know for a fact that there are other Mormons who also have a more individualistic religious paradigm.
These two archetypes came crashing together for me when I left the Mormon church.  When I left, I took my "single file" approach to spirituality with me.  When I became disillusioned with the truth-claims of the LDS Church, I was ready to "burn it all down", so to speak.  For me, the communal benefits of membership were negligible once the individual benefits evaporated.  I saw my formal exit from the organization as my own individual decision, and only secondarily considered the ramifications for my wife and young son.  My wife, in contrast, was hurt that I had not treated it as a family decision — an attitude that was incomprehensible to me at the time.
For several years afterward, I took Emerson, that consummate individualist, as my guide.  "When good is near you, when you have life in yourself, it is not by any known or accustomed way," wrote Emerson, "you shall not discern the foot-prints of any other; you shall not see the face of man; you shall not hear any name;—— the way, the thought, the good, shall be wholly strange and new. It shall exclude example and experience. You take the way from man, not to man."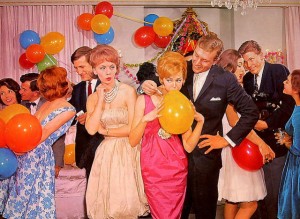 Being a Pagan Introvert
And when I came to Paganism, I brought this "single file" mentality with me.  Even after I started identifying as Pagan, it was years before I started to reach out to other Pagans online, and even longer before I made face-t0-face contact with real live Pagans.  This is undoubtedly a function of being an introvert.  Incidentally, being an introvert doesn't mean I don't like people or that I'm self-centered (although I am probably that too); it just means I draw energy from solitude and expend energy in social situations.  (Extroverts are the opposite.)  In practical terms, this means I do well one-on-one or in small groups of two or three, but can be quickly drained in groups of a half dozen or more.  My worst nightmare is a cocktail party.
This has profound implications for spirituality.  I think, whether you are an introvert or extrovert, genuine spirituality always involves a transcendence of one's ego-self, an encounter with an "other".  The "other" may be a theistic other, like a god or spirit, or a non-theistic other, like nature, the Big Self, or community.  Spiritual introverts like myself are less likely to find what we seek in community (or at least in large groups of people), which means we have to find our "other" elsewhere.  For introverts, then, community is a means to an end, but rarely the end in itself.
The Sideways Turn

But being an introvert doesn't mean I don't long for community.  In fact, I sometimes feel like my way of being in the world and my spirituality are deficient because of my introvertedness.  I don't have a Pagan working group (other than my wife and kids, who are a kind of captive audience).  As a result, I sometimes feel like I'm not a "real" Pagan.  Even my participation in the local Unitarian church has been tenuous — I attend regularly and contribute financially, but I have not formally joined.  This sometimes leaves me feeling like, in some sense, I haven't yet arrived, that I don't have a spiritual home.  I even sometimes contemplate paying a fee to some Pagan organization so that I can say I belong to something, but that is merely the illusion of community.
I think part of the problem with this question is how I am defining "community".  I need to let go of this abstract idea of what participation in a religious community should look like.  Instead of thinking of community as a cocktail party — which is overwhelming for me — I need to think about community more in terms of individual relationships.  If I could extend my "single file spirituality" metaphor a little, I could imagine standing in my single file line and then turning sideways, reaching out my hands to the people who now are neither in front nor behind me, but beside me.
And then I realize that I already am part of a community, several communities in fact.  Even if "Pagan community" is elusive, I am part of the Patheos Pagan community, the Naturalistic Pagan community, the First Unitarian Church community, the Sunstone community … even my little family is a community.  I am a member of these communities, not because I have a membership card or because I know everyone's name, but simply by virtue of my few individual relationships with people within each of those communities.  They, in turn, have relationships with others, and by various degrees of separation, I am part of a much larger community.  When we stand in a circle together as Pagans, we are only holding hands with two other people, but through them we are part of a much larger circle.  I think, when it really comes down to it, community isn't any more complicated than being real with the person standing next to you.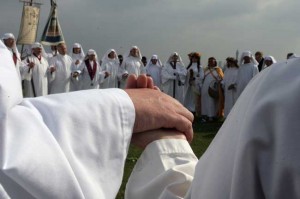 The Elusive "Pagan Community"
All of these mental gymnastics will undoubtedly seem ridiculous to those of you who are spiritual extroverts, for whom community comes easy.  But I suspect more than a few of you know what I am talking about.  In fact, while we have our extroverts (and thank Goddess for them), I suspect that Paganism draws a large number of spiritual introverts.  Since the boom in Pagan publishing and the growth of internet Paganism, it has become increasingly easy to identify as Pagan without ever meeting another Pagan.  While there are some benefits to having a low bar for entry, I don't think there is any substitute for real, live, in-the-flesh human contact, and I think the Pagan community as a whole may be suffering for the lack of it.  I know that I, even being an introvert, suffer for the lack of it sometimes.
For spiritual introverts like me, participating in large Pagan events (or even small ones) can be a daunting prospect.  I suggest that instead of trying to engage a large Pagan group, we introverts can reach out to one or two people who are already close to us — either geographically or ideologically or emotionally.  We can "turn sideways" and reach out our hands to the people nearest us.  I'm certainly no expert in these matters.  But this is how I have found my way forward:  I can reach out to that person whose writing or art I admire.  I can shoot them an email.  Or I can reach out to that person who may have commented on my blog or who responded to one of my own comments.  I can just say "hi".  I can let them know I appreciate them.  I need to remind myself frequently that no one is convinced of their awesomeness.  And if I'm really feeling brave, I can offer to have online tea time with them — to put a face to an avatar.  Maybe one day, I can actually meet them in person and we can drink from the same teapot.  And before I know it, that elusive thing called "community" will be within my grasp — figuratively and literally.