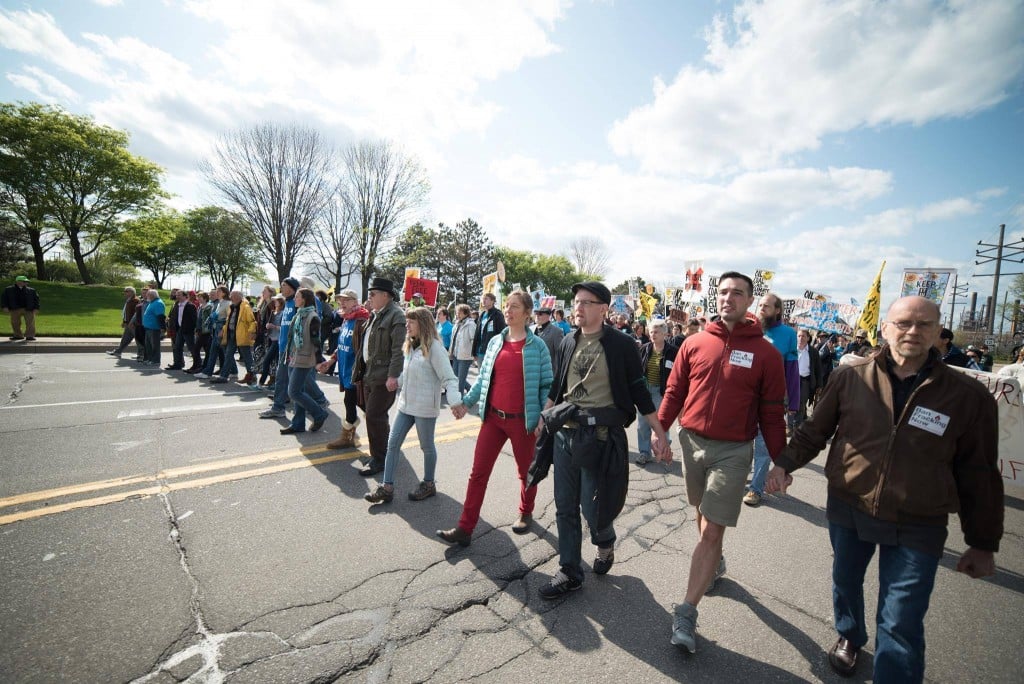 Whether you are a polytheist or animist for whom the earth is the home of gods and spirits, a pantheist for the earth itself is deity, or a non-theists for whom the earth is sacred without divinization, it's safe to say that most Pagans see the earth and the web of life as sacred.
There are many ways we show this:  We show reverence or devotion to the earth in our religious rituals.  We live lives of integrity and respect for the earth and the human and other-than-human beings that live in it. … And we exercise our rights to assembly and free speech in defense of the earth. This last one has become critically important now that two climate change-deniers and free speech-suppressors have been elected to the White House.
Pagans have the theological motivation and, I believe, the responsibility to speak out in defense of our planet at this critical juncture in history.  And there is an opportunity for Pagans in the Chicagoland/Northwest Indiana region to support the movement to break free from fossil fuels on Friday January 13 at 9am at the Lake Superior Court (232 Russell St.) in Hammond, Indiana (just across the border from Chicago).
Last May, 41 climate activists, including myself, were arrested at the BP refinery in Whiting, IN, as part of a coordinated action with tens of thousands of activists on 6 continents in the largest act of civil disobedience in the history of the environmental movement. While this was a peaceful action, Break Free was a deliberate escalation of the climate movement, born out of the urgent need to dramatically accelerate the just transition from fossil fuels to renewable energy. This urgency has been magnified by the election of Trump's nomination of several climate change-deniers to his cabinet–not to mention the ongoing fight against the Dakota Access Pipeline.
The final hearing in the prosecution of the "Whiting 41" is scheduled for Friday, Jan. 13, 2017. Those who gather on the 13th will be demanding a just transition to renewable energy economy, expressing solidarity with water protectors in Standing Rock, and opposition to the Trump/Pence climate policy.
This event is in coordination with 350.org's #DayAgainstDenial campaign. People in all 50 states will send a message to every U.S. Senator to reject Trump's nominations for the EPA (Scott Pruitt), and Secretary of State (Rex Tillerson), Energy (Rick Perry), and Interior (Ryan Zinke). After the hearing and rally, we will march to the office of Senator Joe Donnelly at the Federal Plaza to deliver our demand that he reject Trump's climate denying cabinet nominees.
This will be a fun, non-confrontational event.  There will be a singing, music, and street theater–as well as hot coffee!  I think it will be a meaningful experience for everyone involved.

The Chicago Pagans Facebook page and Pagan Community of Northwest Indiana Facebook page have over 1,000 members combined.  I believe there many more Pagans in the Chicagoland region than that.  So there is real potential to make a powerful impact.  I hope you will join us on Friday January 13 at 9am at the Lake Superior Court (232 Russell St.) in Hammond, Indiana.
There's 3 things you can do in the meantime:
Share the link to the Facebook page event with your friends. (Sending personal invites to friends in the region is best.)
Share our GoFundMe link with those who can't attend.
If you have questions, please feel free to message me on Facebook.
Thank you for your support!
John