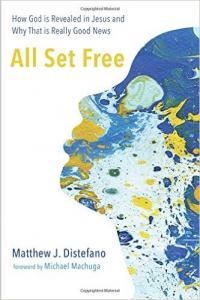 My friend and blogger, Rob Grayson, offers his thoughts of my first book, All Set Free. Thanks for the kind words Rob!
All Set Free is ambitious in its scope, all the more so for a first book. Matthew's ostensible goal is to make a case for "universal restoration" – the hope that ultimately, none will be lost and all will come to the reconciling knowledge and experience of God's all-encompassing love. He makes his case enthusiastically and winsomely, quoting liberally from scripture and other sources as well as drawing on his own experience. But along the way he also tackles a number of other key topics, among them what it means to read scripture in a Jesus-centred way and how to understand the atonement in view of God's non-violence revealed in Jesus. He also provides a broad introduction to René Girard's groundbreaking work on the origins of human culture and sacrifice and helps us see how our sacrificial origins have so often – and so damagingly – shaped our theology and our practice of community.
This is, above all, a hopeful book that should open up new vistas of hopeful possibility to those who have too long felt stuck in a prison of religious certainty whose news often seems anything but good, and to those who have rejected the version of Christianity offered to them on the basis that the God portrayed to them appears to be at best hard to please and at worst downright dangerous. Matthew joins the growing chorus of voices calling for a more Christlike re-appraisal of the God of love and light. My hope is that reading his book will leave you with questions like "Can God really be that good?!" and whet your appetite for further study.