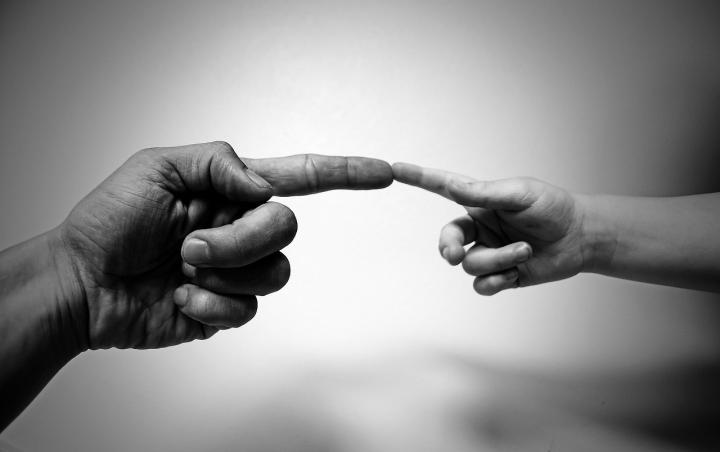 Christians say a lot of things about God. If asked to describe the Creator, many answer: "God is omnipotent, omnipresent, and omniscient. He is loving, merciful, and forgiving, but also holy, just, and wrathful." Without really even consulting the Bible, answers such as this are often rattled off. Sure, many of these attributes are used in various passages throughout Scripture, but what is missing is one of the only two axiomatic statements about God in Scripture, namely, that "God is light." (1 John 1:5) The other is that "God is love (1 John 4:8)," which often gets twisted—as in the stock answer above—reinterpreted incorrectly to "God is loving." You see the difference? When God is merely "loving," he must be compared to a love that is greater, namely the very essence of love itself. So, right off the bat, you can see that a God who is described in only two truth statements leads you in a different direction than a god based off a litany of attributes—which is the god I would like to talk about in this article.
When you take the approach of the Westminster Confession of Faith, where God is reduced to a laundry list of properties, you fall into the trap of presupposing who you think God is. Let me explain. If you say that "God's justice is perfect," what are you really saying? How are you defining "justice" and what makes you think your definition is appropriate? Certainly, the only direct revelation we have is that of Christ Jesus. Yet, ironically—as they predate thatrevelation—many use the writings of the Old Testament as evidence for an understanding of divine justice. This hardly seems proper handling of something as important as the justice of God. Are we called to be followers of Christ or followers of the Bible?
Since we are on the topic of justice, and since the Apostle Paul spent considerable time as a follower of both Christ and of a collection of human writings, I think it is appropriate to consult him for some insight into the matter of divine justice. In his letter to the Romans, Paul writes the following: "O the depth of the riches and wisdom and knowledge of God! How unsearchable are his judgments and how inscrutable his ways!" (Romans 11:33) So, we should gather that the Father's judgments are not paralleled by how humanity judges things, which can often be summed up with such phrases as "an eye for an eye," and "the punishment must fit the crime." In other words, humanity's justice is often retributive.
How, then, did Paul view God's judgments?
Well, just one sentence earlier Paul states that God is "merciful to all." Even though all are disobedient? Yes, even though all are disobedient. Even those whom Paul refers to as "objects of wrath" in Romans 9:22? Yes, even them!
Is it any wonder Paul then concludes with: "How unsearchable are his judgments and how inscrutable his ways!"? God's justice is not humanity's justice, at least not in Paul's opinion.
Now, to make sure Paul is not saying something about the Father's justice that would contradict that of Jesus, let me ask the following questions: Was Jesus ever not merciful during his life? How did he treat the woman caught in adultery?[1] How did he behave in the Garden of Gethsemane?[2] How did Jesus react to Peter when Peter was about to go all Rambo on Christ's captors?[3] What did Jesus do when he was tortured and humiliated?[4] What did he utter over and over on the cross?[5] What words did Jesus say to his disciples after the resurrection?[6]
He brought peace.
He brought mercy.
Her offered forgiveness.
I know this interpretation of things will strike many Christians as lacking a certain justice. I get that! In fact, I agree with them. It does lack a certain (retributive) justice. But that is a good thing or we'd all be in trouble. Remember, prior to making the claim that God will be merciful to all, Paul also said that all are held over in disobedience[7] and that "all fall short of the glory of God. (Romans 3:23)" Given that fact, are we sure we really want God to possess the justice most are arguing for?
Now, before anyone suggests that I believe God is letting unrepentant rapists, murderers, child-abusers, and wicked dictators "off the hook," let me say that I believe some will experience a form of punishment. That punishment is mentioned in the conclusion of the Parable of the Sheep and the Goats. The Greek verb used is kólasis and denotes a corrective form of punishment. This contrasts with another Greek verb, timōría, which translates to "vengeance." So, yes, there very well may be correction for some—perhaps me, as Paul states that fire will test everyone's works[8]—but that doesn't mean that (corrective) punishment should continue on ad infinitum. Not only would that not be God's justice, but it is hardly even retribution. Nay, it must be a lower form as retribution requires that the punishment fits the crime. Infinite punishment cannot possibly fit with finite sins.
I understand devoting only a few sentences on word meanings is not a sufficient study. For a deeper understanding of some of the punishment texts contained in the New Testament, I recommend pp. 75 – 101 in The Inescapable Love of God by philosopher Thomas Talbott. For now, a brief mention will have to do.
My overall point, then, is to simply suggest that presupposing attributes of God and their definitions is often erroneous. As I hopefully modeled, this seems true with how the justice of God is understood by many. With justice presupposed as retributive, much of what Jesus taught us about God seems to fall on deaf ears and blind eyes. This could be said with other presupposed attributes like wrath, vengeance, and even omnipotence. In my opinion, a theologia crucis, or theology of the cross, changes how we should talk about both the "wrath of God," as well as the "power of God." When one begins their theology at the cross, they will inevitably draw different conclusions then if they start their theology at Genesis 1:1. Western Christianity needs to start at Calvary and work backward, rather than forward from page 1 of the Old Testament.
[1] Answer found in John 8:1 – 11
[2] Answer found in Matthew 26:53
[3] Answer found in Matthew 16:23
[4] Answer found in Matthew 26:67
[5] Answer found in Luke 23:34
[6] Answer found in John 20: 19 – 23
[7] Romans 11:32
[8] 1 Corinthians 3: 12 – 13