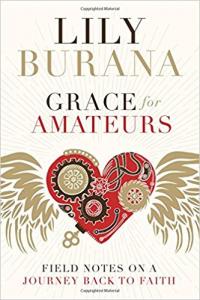 I'll start by admitting that Lily Burana's memoir, Grace for Amateurs, is not the type of book I regularly read. As a theology nerd, my nose is often in scholarly tomes that I have to read over and over in order to understand half of what the author is talking about. I know, call me a masochist. Nevertheless, when Lily's publicist reached out and asked for a review, I was actually more than happy to jump on board. (It's nice to take a break from all the heady stuff once in a while.)
After reading the book, I'm beyond happy that I made this decision.
First off, Burana is a brilliant wordsmith. She's such a good writer, in fact, that it kind of bothered me. But please, don't take that as a slight of any kind. It just means I'm a bit insecure and highly mimetic. (Hey, at least I admit it.) In all seriousness though, Grace for Amateurs is one of the most well-written books I've ever come across. I found myself laughing and nodding my head throughout, and Burana even had me crying on a few occasions. The folks sitting next to me on my flight to Nashville must have thought I was crazy. But that's okay; reading this book makes it totally worth it.
As I just alluded to, Grace for Amateurs is not, first and foremost, a book about theology. Rather, it's a story. It's the story of punk rock bad-ass Lily Burana. And it's a real story. It's raw, unfiltered, and real, everything punk rock is meant to be. It doesn't sugarcoat the messiness of faith, of life; rather, it embraces every bit of it. My favorite example comes of this from pg. 117. Commenting on the birth of her daughter, Burana writes:
With my daughter, and with God, in my life, I'm still the same broken, neurotic mess I always was. And that's okay, because these are relationships I'll have for life, and beyond. That's the miracle of grace, one that keeps even skeptics like me entranced by the promise of Easter. We fall, we suffer, and things land so distressingly far afield of where we'd wanted, but . . . pain is not the end of the story. We get a second shot, we rise again.
This understanding of our brokenness and the need for grace—along with the author's obviously incredible way with words—is what makes Grace for Amateurs a piece of literary brilliance. More importantly (and I'm not sure this was even the author's intent), it's this punk rock realness that makes this a book that can actually change the lives of anyone who has struggled with depression, abuse, or crises of faith. Indeed, it's even the type of literature that can illuminate a type of Christianity that makes sense, the type of Christianity that can help heal a broken world.
So, do yourself a favor and get this book as soon as you can. If you get one of those Amazon gift cards for Christmas, this would be a wise purchase. Or, if you just can't wait, pick it up at any online retailer like Barnes and Noble.
Until next time.
Grace and peace.