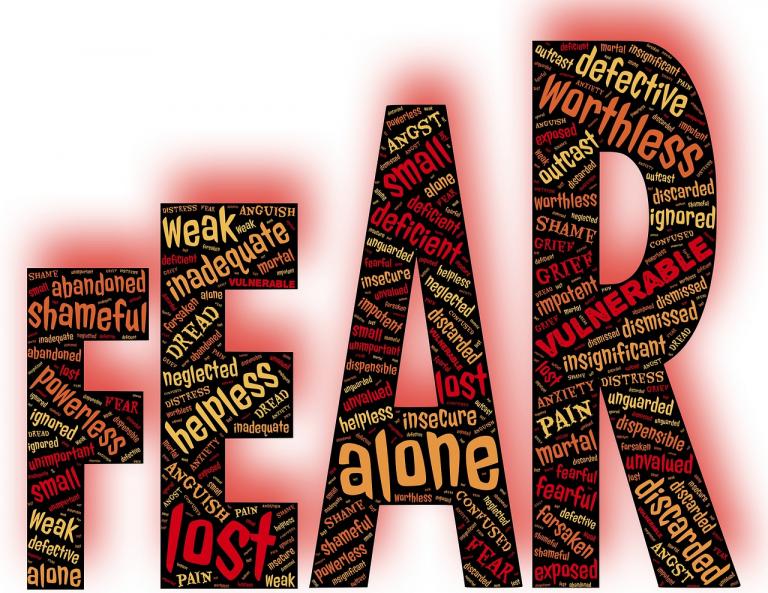 I used to live in fear. Fear of God. Fear of a Rapture that I may or may not be included in. Fear that my friends and family would one day be tormented for all eternity. Fear that I may be tortured as well.
Fear.
My fear was so palpable, even, that it drove me absolutely insane. I can, to this day, still recall the horrific nightmares that so often plagued my young and impressionable mind. I can recall being chased by spiders and scorpions, screaming "Snake eyes!" at the top of my lungs whilst not recognizing my own parents' faces. I can recall, on occasions too numerous to count, carrying my dead grandfather's corpse through the killing fields of Armageddon. And the sleep paralysis! My God, the sleep paralysis.
Now, to be honest, it was this fear-based worldview that drove me, for a season, from the Christian faith entirely. After a time, it simply became damn near impossible to function in the world. So, I had to shrug my shoulders and give up. Demons around every corner?! Satan lurking at your door?! A God who is no better than the devil, and, in fact, has a kill count that far exceeds the infamous dark lord?! Enough was enough!
And while some can hold fast to these things throughout their whole life, I couldn't.
It was, however, not for a lack of trying. I tried to hold on. I tried to read my Bible. I tried to pray. I tried to earnestly and honestly worship God on Sunday mornings. I tried! Which, incidentally, is why I scoff when people tell me I need to repent of my ways and return to the fold. For you see, to do so would be to suffer from a bout of Stockholm syndrome because, at the end of the day, the God I believed in was not good, could not be trusted, and therefore could not be worshiped. Not honestly anyway.
Yet, my experiences are not unlike the experiences of a multitude of others. In fact, they are strikingly similar. I bet if you asked 10 former believers why they left the faith, for instance, they would all tell you basically the same thing: God cannot be trusted; God is scary; I can't worship a God who will punish people forever; I can't live in fear any longer; and so on.
This should give us great pause. In fact, it should totally rock our world and cause us to change our minds (metanoia).
You see, I'm convinced that if our worldview does not bring a sense of joy and peace, then it is not worth having. Even if it is a so-called "biblical worldview." There, I said it. And I believe it. Honestly, though, what good is it if it causes so much spiritual and psychological horror that you can barely make it through your day? What good is it if it instills so much fear that you can barely function? None, I tell you, none!
That is why we need to hear from voices who have better ideas, who have learned how to push through the fear and have come out the other side. Not to give a shameless plug to my editor-in-chief, but that is why we need books like Benjamin Corey's
Unafraid.
Or my friend Lily Burana's
Grace for Amateurs
. Or Brian Zahnd's
Water to Wine
.
Folks like these get it. They've done the hard work of deconstruction so that others hopefully don't have quite as much to do. Not that we all shouldn't constantly be deconstructing and reconstructing, but, if you ask me, the less we have to tear down the better. And more than that, these folks have learned that just because you grow up with a fear-based worldview doesn't mean you have to chuck out the proverbial baby with the bathwater. In other words, true faith can still be found after you toss out all the religious dogma. In fact, shedding all the religiosity seems to be the only way to discover faith in a God who is truly good, who is truly trustworthy, and who is actually worthy of our worship. That has been my experience anyway.
Until next time.
Peace.
*Matthew J. Distefano is the author of the recently released book "Heretic!" which can be purchased on Kindle for only $0.99. This promotion lasts throughout April and all royalties will be donated to the Preemptive Love Coalition, whose mission is to bring emergency relief to war-torn families.