I don't know most of you. And I'm not wealthy enough to get y'all gifts. But I can offer you something, now through the end of 2020.
On the cheap, too!!!
If you have Kindle, here's your chance to get 5 publications for $3.99 or less. Don't miss out on this opportunity!
---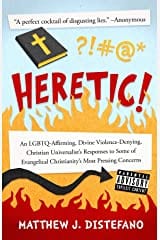 Price: $3.99
Contrary to what some may say, this book, rather than being the product of a demonic lie, is an open and honest set of answers to the questions wrestled with by countless Christians the world over. And while nothing in Heretic! is completely unique—that is, much of the theology contained herein goes as far back as Christianity itself—Distefano creatively puts his unique perspective and humor onto the pages with care. Refreshing and liberating, this is a must read for any who dare question their inherited doctrines.
---
Price: $3.99
While millions of believers around the world are finding their understanding of Christianity to be outdated and untenable, Matthew Distefano has managed to paint the Gospel in such a way that even an atheist could appreciate its beauty. Rather than a message of rapture, or rewards and reprisals, Distefano presents the good news of what God has done in history to stem the tide of our own violence and evil—inviting us into a whole new way of living and being in this world. By integrating René Girard's "mimetic theory" and Ernest Becker's "death anxiety," Distefano is able to diagnose the root causes of human violence and then offer the life-giving solution in the person of Jesus. Both the struggling evangelical and unbeliever alike can take refuge here, finding in this Gospel the thing their soul—and the disintegrating world around them—is thirsting for.

---
Price: $0.99
The Bonfire Sessions: Spring is a thought-provoking booklet that discusses: deconstruction and how it impacted the authors' friendship, suffering and how it fits into the human narrative, doubt and how it is not the opposite of faith, evangelicalism and living an authentic life, and how Buddhism and Christianity can co-exist.

With rawness and vulnerability, as well as a large dose of salty language, this set of conversations delivers quite a punch. Sometimes funny, sometimes profound, but always honest, the two hosts of The Bonfire Sessions podcast come together to deliver the first in a collection of four booklets that will be sure to challenge your heart, soul, and mind. So, pour your favorite drink and fill your long-stemmed pipe, and get ready for some high-quality fellowship.

---
Price: $0.99
The Bonfire Sessions: Spring is a thought-provoking booklet that discusses: deconstruction and how it impacted the authors' friendship, suffering and how it fits into the human narrative, doubt and how it is not the opposite of faith, evangelicalism and living an authentic life, and how Buddhism and Christianity can co-exist.

With rawness and vulnerability, as well as a large dose of salty language, this set of conversations delivers quite a punch. Sometimes funny, sometimes profound, but always honest, the two hosts of The Bonfire Sessions podcast come together to deliver the first in a collection of four booklets that will be sure to challenge your heart, soul, and mind. So, pour your favorite drink and fill your long-stemmed pipe, and get ready for some high-quality fellowship.

---
Price: $0.99
The Bonfire Sessions: Autumn is a thought-provoking booklet that discusses: the current climate crisis and racial tensions in the United States, how power can and often does corrupt those in leadership positions, why tragedy and loss are often a catalyst for appreciation, and why, in spite of all the suffering in the world, both authors have at least some hope for the future, even if it is just a fool's hope.

With rawness and vulnerability, as well as a large dose of salty language, this set of conversations delivers quite a punch. Sometimes funny, sometimes profound, but always honest, the two hosts of The Bonfire Sessions podcast come together to deliver the third in a collection of four booklets that will be sure to challenge your heart, soul, and mind. So, pour your favorite drink and fill your long-stemmed pipe, and get ready for some high-quality fellowship.

---

If you want to follow me on social media, here are some links: