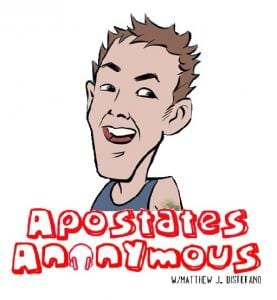 There is a new episode of Apostates Anonymous that y'all NEED to check out. In it, I sit down with best-selling author Mike Morrell to discuss the creative process and how his wildly popular book, The Divine Dance, coauthored with Fr. Richard Rohr, came to be.
Check out Mike's work at mikemorrell.org.
Also, if you want to check out Mike's Speakeasy program, here's a little word from him:
If you're a blogger, podcaster, or even a frequent Amazon (or Goodreads) reviewer, and you enjoy reading books about theology, spirituality, contemplative practice, restorative justice, history, and culture—and you also enjoy getting books for free—joining the 1,000+ reviewers who are already part of Speakeasy just might be for you.

(Don't blog yet? It takes just minutes to set up a WordPress blog for free.)

If you're approved, you'll get Speakeasy emails when new books become available for review, giving you background info on the author and topic. If a book offering resonates with you, you can request a free copy. Review your book within 30 days and share the link(s) with Speakeasy, and you remain a member in good standing. You could be well on your way to building a robust new library!

(Speakeasy offers physical books to reviewers in the United States, and eBooks to reviewers world-wide.)

Sound good? Apply here!
To listen to the episode, here are a few links:
---
If you wanna get to know me better, please follow me on social media. I'm pretty active on all platforms:
Also, if you've been digging my work on here, and want to see me be able to continue writing as close to full-time as humanly possible, please take a look at my Patreon page at www.patreon.com/mjdistefano. Even $1 a month helps bigly!!!