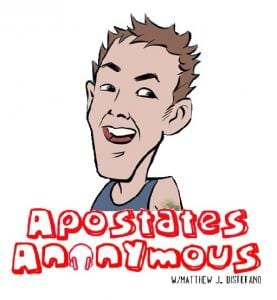 The other day, I had one of the best conversations I've ever had on my podcast, Apostates Anonymous. That's not to say my past guests were a bunch of chumps; it just means Jason Elam knocked it outta the park.
If you don't know who Jason is, then you are missing out. He is the host of Messy Spirituality, a podcast that has featured some of the best theological minds out there. He is also a fellow Patheos contributor, so make sure to check out his blog.
What made this conversation so great? Aside from the wonderful nuggets of theological truths, it was his passion. Jason is a passionate dude, and you can hear his love for Jesus in just about everything he says.
To check out the episode, here's the link:
---
If you want to follow me on social media, here are some links. I am pretty active on all platforms, and would love to connect.