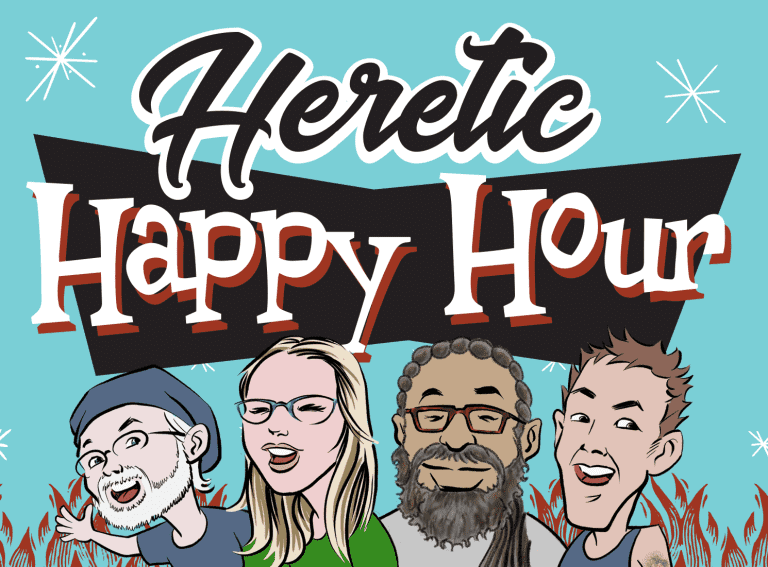 A new episode of the Heretic Happy Hour podcast is now available, and features an interview with Kristin Kobes Du Mez, author of Jesus and John Wayne: How White Evangelicals Corrupted a Faith and Fractured a Nation.
Here's a portion of the synopsis of the book:

Jesus and John Wayne is a sweeping account of the last seventy-five years of white evangelicalism, showing how American evangelicals have worked for decades to replace the Jesus of the Gospels with an idol of rugged masculinity and Christian nationalism, or in the words of one modern chaplain, with "a spiritual badass." As Du Mez explains, the key to understanding this transformation is to recognize the role of culture in modern American evangelicalism. Many of today's evangelicals may not be theologically astute, but they know their VeggieTales, they've read John Eldredge's Wild at Heart, and they learned about purity before they learned about sex—and they have a silver ring to prove it. Evangelical books, films, music, clothing, and merchandise shape the beliefs of millions. And evangelical popular culture is teeming with muscular heroes—mythical warriors and rugged soldiers, men like Oliver North, Ronald Reagan, Mel Gibson, and the Duck Dynasty clan, who assert white masculine power in defense of "Christian America." Chief among these evangelical legends is John Wayne, an icon of a lost time when men were uncowed by political correctness, unafraid to tell it like it was, and did what needed to be done.
---
If you want to follow me on social media, here are some links. I am pretty active on all platforms, and would love to connect.