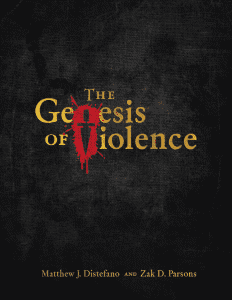 Today is the day!
A book that is nearly 5 years in the making is now available, and we couldn't be more proud of this one of a kind project.
So, what is this book all about? Here's the elevator pitch:
In The Genesis of Violence, author Matthew J. Distefano offers his readers a uniquely creative interpretation of the biblical book of Genesis, while artist Zak Parsons provides the hauntingly beautiful illustrations. Like the first book of the Bible, this collaboration is at times gorgeously stunning, yet also gruesome and gut-wrenching. From the flood of violence that nearly wiped out humanity to the near-sacrifice of Abraham's son Isaac, to the reconciliation of Jacob and Esau and the forgiveness of Joseph's brothers, this book has it all: brutality and bloodlust on the one hand, mercy and grace on the other. Indeed, this book is one of a kind, and should provide its readers with a lot to talk about in the years to come.
Not convinced? Here's what some folks are saying:
Fellow Patheos columnist Adam Ericksen calls it "beautiful."

Author of Kissing Fish, Roger Wolsey, says this is a "needed reminder."

Some guy named Keith Giles begrudgingly admits that the book is "profound."

Author and teacher Nora Sophia believes this work can foster "empathy."

Paul Young, author of The Shack, calls it "deeply touching."

James Alison, one of my theological heroes, says the book is "wonderfully imaginative."
Still not convinced? Here's a 5 minute video that should get you there:
Okay, now that you are super hyped, here's how you can order:
Head on over to http://quoir.com/the-genesis-of-violence and click the "Buy Now" button. You'll be taken to an order form. Put in all the necessary information, and then try to wait patiently. I know, it can be difficult.
Again, we are super proud of this one. We think you'll love it. And if you don't, well then we were wrong. Sorry.
---
If you wanna get to know me better, please follow me on social media. I'm pretty active on all platforms:
Also, if you've been digging my work on here, and want to see me be able to continue writing as close to full-time as humanly possible, please take a look at my Patreon page at www.patreon.com/mjdistefano. Even $1 a month helps bigly!!!