This article comes on Day 21 of our special Altmuslim/Patheos Muslim Ramadan #30Days30Writers blog project, in which we are showcasing the voices of 30 Muslim leaders, activists, scholars, writers, youth and more (one on each day of Ramadan) as part of our commitment to own our own narratives and show how we are one Ummah, many voices. To demonstrate how our Ramadan experiences are shared yet unique to each of us.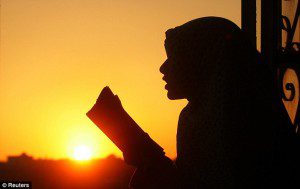 By Zainab Khan
All of us sitting at the dinner table hold our hands up in prayer while secretly stealing looks at the second-hand on our wall clock every few seconds. "Stop looking at the clock, make du'a!" screeches my mom invariably every evening as we all wait for the Maghrib adhan to sound. Three … two … one … And there it goes, Alhamdulillah, the "Allahu Akbar" we've been awaiting for the last 17 hours.
And like clockwork, in those last three seconds, I find myself asking, should I gulp this down or should I sip slowly and reflect on the mercy of my Lord toward me, His creation. Too late. At one … my hand is already cupping my glass and at zero … the glass is definitely half empty.
Last month, in preparation for Ramadan, I wrote my June column for AltMuslim about the "Hidden Costs of Indulgence." As the month of Ramadan has been progressing, I've been given plenty of opportunities to practice disciplining my nafs, Alhamdulillah.
However, as this month progresses, I've come to a realization that I had ignored, or at the very least, failed to elaborate on one central tenant when it comes to indulgence and discipline: discipline is easy when indulgence is forbidden. And maybe "discipline" isn't discipline when indulgence is forbidden.
At a certain level, it's true that "you can't miss what you don't know." If you have been fasting for Ramadan ever since you were a child, abstaining from food and drink during this month (save the first few days) is not a very difficult task. Similarly, if you have grown up knowing that pork and alcohol, for example, are forbidden to Muslims, the temptation to indulge in either is miniscule compared to if you have had either before.
On the other hand, when drinking alcohol becomes the norm in your surroundings (e.g. on a college campus) and so seemingly not so forbidden, the risk of indulgence is much greater and discipline becomes more difficult.
What does this mean for discipline and the month of Ramadan? I'd argue that the true test of taming the nafs during Ramadan  (especially when it comes to food and drink) occurs from sunset to sunrise, rather than from sunrise to sunset. As I mentioned last month, the first few minutes right after I've broken my fast, especially, are the hardest to keep disciplined.
The prophetic sunnah is to have a few dates and drink water, break for prayer, and then return to the meal. Too many times have I stuffed myself within the three minutes of the adhan, right before prayer time.
During the darkest hours of the day, when I know that I have only "x" amount of time until my nafs' desires are once again out of my reach, that is precisely when I have the best opportunity to truly tame my appetite. I know that for those few hours, I can eat and drink as much as I'd like to – I also know that overeating will lead to uncomfortable taraweeh prayers, disturb my sleep cycle, prevent me from exercising, etc. etc.  
But let's explore discipline for discipline's sake — discipline as an act of worship and as an act of appreciation. The cup is "definitely half empty" by the time I let it return to its place on the dining room table. Because as I set it down, I realize that it is most difficult to discipline my appetite in the first few moments that it has free reign.
In those few moments I must balance the joy of breaking my fast with the possibility of undoing a day's worth of worship. If my Lord made it easy for me to abstain from His provision all day long, I should be able to show Him that I can contemplate over (rather than recklessly indulge in) His mercy. And so that is my goal – to exercise discipline when the sun sets. 
Zainab Khan is a recent graduate of Wesleyan University. Her interests include the South Asian and Middle Eastern diaspora networks, transnational youth movements, and more broadly, fashion and how it operates as a global discourse. You can follow her on Twitter @zaynman. She writes monthly for Altmuslim at Patheos.