This article comes on Day 22 of our special Altmuslim/Patheos Muslim Ramadan #30Days30Writers blog project, in which we are showcasing the voices of 30 Muslim leaders, activists, scholars, writers, youth and more (one on each day of Ramadan) as part of our commitment to own our own narratives and show how we are one Ummah, many voices. To demonstrate how our Ramadan experiences are shared yet unique to each of us.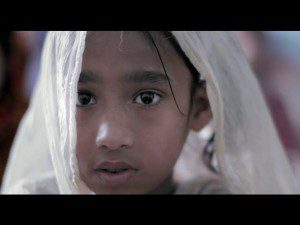 By Lina Hashem
Seventeen hours is a pretty long time to fast. In the summer, no less.
The long days with no food or drink are a challenge. The short nights are another type of challenge: Iftar, getting kids to bed, rehydration, tarawih (I wish!), sleep, preparing suhur and feeding everyone breakfast — all in seven hours.
Ramadan is about as difficult as it gets here in North America this year. I hadn't fasted for two years due to pregnancy and nursing a baby, and I won't deny it — as Ramadan approached, I was worried.
It turned out to be not so difficult, alhamdulillah — all except for the time management aspect, which is definitely defeating me this month. Amazingly, alhamdulillah, I am not even really feeling hungry. I'm just enjoying the very special feeling of Ramadan that I missed when I wasn't fasting.
I can only conclude that fasting in the air conditioning, at a desk job, in a place where I can drive everywhere I need to go — it's only a hint … a mere taste, if you will … of what a challenge really is.
Working at Islamic Relief USA, I'm reminded every day what a real challenge is. Zakia has some real challenges.
Zakia is a widow in Afghanistan. She cleans three apartments each day and washes three families' clothes for 150 Afghanis a day — about $2.67.
She walks almost 2.5 miles to work to save 5 Afghanis — about nine cents.
She usually fasts, in a sense, but not because she wants to — she skips lunch because she wants to save every single penny she earns for her children's food. The five pieces of bread alone that the family needs every day cost one-third of her daily wage.
"Struggling for food now is a part of my everyday life," she said. "Every day when I wake up, I am thinking how to find food for my children. Every day there is one question in my mind — will I be able to feed my children today?"
Mothers have many nightmares, but one of mine would be to not have anything to give my hungry children. My older children are fasting, and I can see the hunger — I see the difference it makes in their faces. And the toddler, when he wants some food — it would be heartbreaking to have to say no, that I couldn't give it to him.
Alhamdulillah, whatever I feel like cooking, I can cook. Whatever they request for iftar, I can make for them. Whatever the little one reaches for, I can give him. This is truly a luxury.
Zakia makes whatever she can get. When an Islamic Relief worker asked her what her favorite food was, she couldn't even think of any — it had been so long since she thought of food that way.
"I do not have favorite food," she said."Anything that Allah gives me I will eat. But my daughters love meat."
She hadn't been able to give them any since the previous Eid al-Adha — ten months earlier.
Another widow in Afghanistan, Marzia, lives a similar way. She told an Islamic Relief worker during her interview, "The price of meat? I don't know the price of one kg of meat. Since last Eid al-Adha, my family and I didn't eat meat."
The day Marzia and her son don't find work, they don't eat anything at all.
Now that … that's a challenge.
Ya Allah, thank you so much for all of the blessings you have given to me and my family. Please help those like Zakia and Marzia and all the others who live day to day, fasting because they have to. Please ease their struggles.
Please comfort the people suffering in Palestine, and Syria, and Central African Republic, and Myanmar and in every other community where people are suffering. Please relieve their suffering, and allow allow us to be sources of relief for them. Please have mercy on them and on us — you are the most merciful of those who have mercy. Ameen.
Lina Hashem is a writer and editor at Islamic Relief USA, one of the biggest Islamic charity organizations in the U.S. Visit their website to learn more and how to donate to a variety of causes, from zakat donation to a Palestinian Emergency Relief Fund.