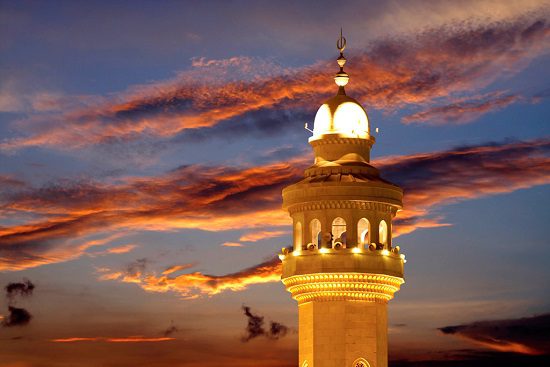 This is Day Five of Altmuslim's #30Days30Writers series for Ramadan 2015.
By Margari Hill
I came home from a community iftar on Saturday and tweeted this: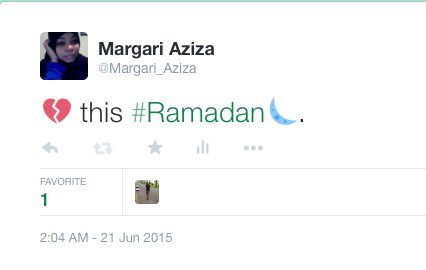 When asked what happened, I answered, "I'm breaking up with my community." Anybody who has been through a divorce can tell you that ending a relationship can be a long process.  It begins with knowing that things aren't working.
So, I'm in the process of breaking up with my community.
Two months ago, the reality of it being over hit home.  I was in a New York hotel, on the first over night trip away from my three-year-old daughter.  As my husband told me about the latest development in our Muslim community, I burst into tears. The masjid board was dissolved the month before, and the waqf took over, deciding not to institute elections for the foreseeable future.
I was losing the dream of an inclusive community, one where my daughter could belong to and one in which the 18-year-old version of me could prosper, rather than spiritually and economically flounder. I felt so hollowed out.  What had I been working towards for over a decade?
Growing up on the suburbs in the Bay Area, California I have always been somewhat of an odd woman out in the Muslim community.  In 1993, my friend drove me to take my shahadah (profession of faith as a Muslim) at masjid Warith Deen, some 45 minutes away.  He thought it was a place that would be more familiar.
But the truth is, even in that predominantly African American Muslim community I never had a sense belonging. Living in Philadelphia where so many people looked like me didn't ease the isolation. I've sat at iftars eating familiar foods — barbecue baked chicken, Mac and cheese, shrimp macaroni salad and green beans, in a sea of unfamiliar faces. I've felt the crushing loneliness as a stream of unfamiliar faces passed me by.
Sometimes the rushed sisters would tersely say, "Salam alaikum." They would then join their friends and family, while I feel like the interloper who was ease dropping on their conversations.
I'd go to events and see former co-workers and, on more occasions than I like to admit, ask to sit at their table only to be told there was no room.
These feelings of isolation were oddly in contrast to the community life me and my husband lived after we were married. Shortly after our 2009 wedding, my husband gave his first khutbah (sermon) at the University of Pennsylvania. He became Muslim chaplain the year our daughter was born in 2011. Then, the demand increased for him to speak and teach both locally and across the country.
We were reluctant about many imam job offers. Then one came out of the blue for religious director.  How can you not come to a Southern Californian desert suburb that looks like a resort town with palm trees and mission style buildings and not fall in love?  Warm faces with year-round tans, easy going attitudes, and mountains everywhere spoke to our hearts. We decided to move despite the catastrophe of the drought and the always-distant threat of the big one [earthquake].
In November, a sister organized a wonderful brunch.  As I spoke to them, I wept because it was the first time in 20 years had I felt a sense of belonging in a Muslim community.  This, along with my work at Muslim Anti-Racism Collaborative, where I forged the strongest bond of sisterhood with the women I worked with, allowed me to finally be able to use the terms "sister" and "sis."
But change is scary for everyone. And, soon I began to feel l was caught in the cross hairs of opposing visions of community and intergenerational conflict.
There is a special kind of burn out for those of us who work within the Muslim community, whether in schools, social service organizations or religious institutions.  I have the utmost respect for those who have the interpersonal skills and the resilience to build community. It is hard, hard work.
All I know is that on Saturday night as I stood in line, I realized the hard work and dedication of those who had built this community.  This place was truly theirs. I realized that it wasn't my place or healthy for me to try to change them to create a vision of community that was more comfortable for someone like me.
In addition to not being part of the ethnic networks that made such community building possible, my unpaid labor could never match their capital. I had to detach from the desire for equality in this type of arrangement.  I would drown if I kept trying to prove I belonged. I had to detach from being in love with a community that could be.
Those community iftars are wonderful, and may Allah bless those who organize them and volunteer to serve the community. But, it is unlikely that those community iftars are ever going to be a place where I will feel belonging.  And that is okay. I will continue to work to create spaces and avenues for myself and others to develop spiritually, emotionally and spiritually.
I don't have all the answers, and the pangs of longing for what could have been are still there. However, there have been families who embraced me, my husband and my daughter as one of theirs.
Drawing from their example, I can free myself of the artifice of community to build authentic relationships that nourish my soul.
Margari Aziza Hill is a co-founder and Programming Director of Muslim Anti-Racism Collaborative. She holds a masters from Stanford University. She is currently researching colorism in Muslim education.