By Altmuslim Editors and Writers
Humanity sure took a beating in 2016, as many around the world have been counting down the days to the end of this year. Numerous actors, musicians and stars passed away — some to our great shock and dismay. Syria and Aleppo continued to be ravaged by war as well as continued mass killings — genocide, really — of Rohingya Muslims in Burma and other atrocities around the world. But, there are several good things that happened this year. You may not think so, but trust us!
In Altmuslim tradition, we want to usher out the year and welcome 2017 by relating the Top Ten (in our opinion) Good Muslim News Stories of 2016. From triumphant stories at the summer Olympics in Rio de Janeiro to the breakout Muslim stars — Khizr and Ghazala Khan — from the Democratic National Convention to an all girls, all Muslim FemSTEM robotics team in California that defied the odds, there was plenty of joy and celebration as well! Check it out, in no particular order!
1. "The Greatest" leaves behind a profound legacy: In the midst of a grueling presidential campaign that stirred up anti-Muslim sentiment among a troublingly high number of Americans, we were reminded of the legacy of arguably the most loved American in the world, who passed away this year: A Black American Muslim named Muhammad Ali, who went from being admired for his athletic prowess, to hated for his unabashed politics, and then to be loved and honored by all sectors of the American public. The campaign hysteria around Muslims took a pause as Americans of all backgrounds paid their respects to "The Greatest," highlighting the ways that this role model, activist, social change agent and poet touched their lives. Millions of Americans watched a nationally televised janazah (Muslim funeral) prayer, were inspired by the words of some of America's most noted Muslim personalities, and were reminded – if only for a brief moment – of the void that would be left behind if America's Muslims – including and especially Muhammad Ali – were not here. (Shahed Amanullah)
2. Keith Ellison vies for leadership of the Democratic National Committee: It's hard to imagine, but 10 years ago the American political establishment was mildly rocked by the fact that a Muslim was running for national office. That man, Congressman Keith Ellison from Minnesota, overcame controversy (he dared swear in his office on Thomas Jefferson's copy of the Quran) and went on to be re-elected multiple times, becoming a progressive stalwart in the Democratic delegation. Now, as a co-chair of the Progressive Caucus and an early, fervent backer of the presidential campaign of Sen. Bernie Sanders, Ellison emerged as an early favorite for the post of DNC head, now vacant after a string of controversial heads. He has already garnered an impressive list of endorsements, from both establishment Democrats (outgoing Senate Minority Leader Harry Reid and his presumptive successor, Sen. Chuck Schumer) as well the party's progressive wing (Sens. Elizabeth Warren and Bernie Sanders). Detractors point to Ellison's decades-old dealings with the Nation of Islam (he says he was never a member) and his pro-Palestinian leanings (the ADL unexpectedly dropped its support after initially endorsing him), but Ellison has shown a remarkable ability to bridge the divides within the party and is still a favorite to win. In the era of a Trump presidency, the message that victory would send cannot be underestimated. (SA)
3. Adnan's story creates a wave of support for justice for the incarcerated: We are several years from the time where lawyer & activist Rabia Chaudry toiled alone to seek answers in the case of her friend Adnan Syed. But while Chaudry continues to work tirelessly for justice for Adnan, it was always her wish to use his case to bring attention to judicial malfeasance that has scores more anonymous people languishing in prison for crimes they allegedly did not commit. After launching her own podcast "Undisclosed" in the wake of Serial (which went on to become a mega-hit in its own right) and releasing her NYT bestseller "Adnan's Story" this year, Chaudry and the Undisclosed team (which for Season 2 brought on Emmy-winner Jon Cryer as co-host) are taking the lessons learned from Adnan's experience and highlighting other similar cases. The story of Adnan, as told by "Serial" and "Undisclosed," included a nuanced portrayal of Muslims in the American landscape, and in 2016 the narrative was broadened to include prominent and talented Muslims like Chaudry using their skills to help make the American justice system more accountable for everyone. (SA)
4. Muslim stories on television continue to be more nuanced: There is still a lot of work to do in Hollywood regarding the portrayal of Muslim characters (and minorities in general), but 2016 brought renewed efforts to create on-screen diversity and portray Muslims as something else than terrorists. Following in the footsteps of the saga of Adnan Syed (but conceived before Adnan's story came to light), HBO's "The Night Of" featured British actor Riz Ahmed in a very similar circumstance as Syed, with a nuanced representation of working-class Muslims in New York and the role of religion in justice and law enforcement. ABC's Quantico continues to have badass Muslim main characters (twin FBI agents Nimah and Raina Amin, both played by the American Palestinian actress Yasmine Al Massri), who not only are not ashamed/afraid to be Muslims/of Muslim background, but who also play decisive roles in the storyline. "It was important," explained Quantico creator Josh Safran, "to not ever put a Muslim terrorist on our show." We also had the second season of USA's "Mr Robot" feature actress Sunita Mani playing the hacker "Trenton" in a role that did not focus on her Muslim identity — she wears hijab, performs her prayers, reads the Qur'an, etc. — but as an aside to her primary role. And, Regina King's character Aliyah Shadeed in "American Crime" brought the actress a second Emmy in 2016 for her portrayal of a Black American Muslim who is a moral center in the crime drama. (RimSarah Alouane)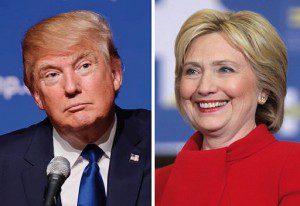 5. A reverse Trump effect brings millions of Americans off the sidelines: Something amazing happened in the 2016 presidential campaign – we violated Newton's Third Law of Physics: "for every action, there is an equal and opposite reaction." While we saw an unleashing of hostility toward Muslims and other groups (Blacks, Latinos, Jews, LGBT Americans, etc.), we also saw an even greater outpouring of support from all quarters of America that are committed to standing up against the resurgence of hate in American society. Rather that running away (or worse, joining) the demonization of Muslims by the Trump campaign, both Democratic presidential candidates doubled down on support of Muslims in the public square, including Muslims at their rallies, in their advertising, and highlighting the contributions of Muslims to America as part of their campaigns. Hollywood has redoubled its efforts to not stigmatize Muslims, and Silicon Valley has overwhelmingly refused to join any effort to use technology to single out and target Muslims for blanket surveillance. And groups like the Southern Poverty Law Center (SPLC) and major philanthropic organizations like the Ford Foundation are spending additional resources to highlight and fight anti-Muslim bigotry in America. There are millions of Americans who are now aware of the reality of anti-Muslim hatred (and it's cousins anti-Semitism, anti-Black bigotry, etc.) in ways that they weren't before, and they can be an effective firewall against any further erosion of the American social fabric. (SA)
6. Khizr and Ghazala Khan and Ilhan Omar dominate 2016 election cycle: The 2016 presidential election, with all its divisiveness and hateful rhetoric did bring forth a crucial positive gain: The growth of Muslim civic engagement, emergence of some Muslim political heavyweights and the election of Minnesota's first American-Somali-Muslim representative, Ilhan Omar. In states like Virginia, which teetered between Republican Donald J. Trump and Democrat Hillary Clinton, several political pundits surmised that Muslim voter turnout in Northern Virginia helped turn the state blue. A poll by the Institute for Social Policy and Understanding found the primary reason Muslim respondents gave for why they would be voting was a sense of civic duty (27 percent), more so than feeling like their vote might matter (22 percent). The election season also saw the rise of political influencers Khizr and Ghazala Khan, a Gold Star military Pakistani-American family who captured Muslims' (and millions of Americans') hearts with "Uncle" Khizr Khan's strong and passionate speech at the Democratic National Convention. Khan honored his son, Humayun Khan, who lost his life in the line of duty in Iraq, and called out Donald Trump, asking him if he had ever read the constitution. No one could've predicted the impact the Khans would have on rallying Democrats and pushing back against Trump. (Dilshad Ali)
7. Muslims Olympians make everyone proud: If there is one worldwide event that promises inspirational and feel-good stories every time, it's the Olympics. And, the 2016 Summer Olympics in Rio de Janeiro did not fail to disappoint. Ibtihaj Muhammad, a darling of the American Muslim community, dazzled her countrymen by helping win a team bronze as the first American athlete to compete in the Olympics while wearing a headscarf. American track star Dalilah Muhammad took home the gold in the 400m hurdles. And, perhaps one of the most poignant stories coming out of the summer games was that of Syrian refugee Yusra Mardini, who competed in the butterfly as part of the Refugee Olympic Team. A competitive swimmer for most of her childhood, Mardini swam in frigid waters to help push her dinghy to safety in Greece. She won the first heat of the 100m butterfly, to the surprise and delight of many, but failed to medal. But it didn't matter. Mardini had won humanity at the Olympics. (DA)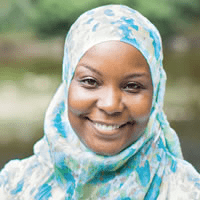 8. The #BlackMuslimFamily hashtag highlights an overlooked narrative: Several great Muslim-related hashtags trended on twitter this year as part of a number of viral and important social media campaigns to amplify Muslim voices and fight back against hate rhetoric and Islamophobia. But perhaps the most joyous and uplifting Muslim hashtag in 2016 was #BlackMuslimFamily. In a year that saw the much-needed rise of Black Muslim visibility in American Muslim communities — as evidenced in the wake of the death of Muhammad Ali and ongoing important work done on anti-racism issues and amplifying Black voices by groups like Muslim ARC and Sapelo Square — #BlackMuslimFamily on Twitter celebrated the beauty and joy of Black Muslim families and their contributions to the American diaspora. The hashtag was started by Muslim Wellness Foundation's Kameelah Rashad, as a response to several controversial and disputed comments about Black Americans made by Sheikh Hamza Yusuf at December's RIS 2016 (Reviving the Islamic Spirit) conference. (DA)
9. Muslim H.S. student starts "FemSTEM" project in Southern California: In southern California earlier this year, 16-year-old Zaina Siyed combined her passion for tech with wanting to combat the negativity of the presidential cycle by launching an ambitious project: a "FemSTEM" robotics team for Muslim girls. The team she created included eight rookies, ages 10-14, who had never done robotics before. Before they joined the team, most of them "hadn't touched, let alone programmed, a robot." They met at a local mosque for three months, with Zaina as their coach, and eventually created "Rujellalley" (the phonetic spelling of the Arabic word for robot), a simple creation of a "brain attached to four wheels, with a think Lego shell for stability," according to this article from the LA Times. In a tough day of competition, the team saw their hopes of advancing to the state competition fading — until a glimmer of hope appeared on the horizon. The team, one of two all-girl teams at the competition, took home the award for the best overall performance. Said judge Cindy Munoz, "As a woman in STEM … [I'm] proud, hopeful for the next generation. I'm just so excited to see women, minorities, Muslims just really challenge those views some people have." (DA)
10. UK Muslims get knighted, feed the homeless and bake a cake for the Queen: On the other side of the Atlantic in the United Kingdom, 2016 was also rich in inspiring stories. Nadia Hussain, the first British-Bangladeshi Muslim who won the sixth edition of the Great British Bake off in 2015, was honored with the privilege of baking the cake for her Majesty Queen Elizabeth's 90th birthday last April. According to Hussain, her majesty even "took the top tier home with her." Also, a beautiful uplifting Christmas story went viral: Muslim owner of "Shish Restaurant" in Sidcup (London) offered a three-course meal on Christmas to homeless and elderly people so that "no one eats alone." This beautiful act of kindness inspired people in the area to volunteer their time on, Christmas, like a group of taxi drivers who provided their services to and from the restaurant for free. Finally, to close the year in beauty, it was just announced Olympic champion Sir Mohamed "Mo" Farah was knighted in the 2017 New Year Honors for services to athletics. Following Muhammad Ali's legacy in the U.S, Farah is a treasure for Muslim communities and for the world, and certainly a role model for Muslim youth to follow and to be inspired by. (RA)
What did we miss? Comment below! Happy New Year and here's to a great 2017.