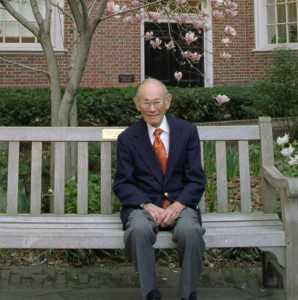 California marks its second Fred Korematsu Day today, January 30, 2012.
This Jan. 30, the Korematsu Institute, a nonprofit program co-founded by Korematsu's daughter and the Asian Law Caucus, a San Francisco–based civil rights organization, is sponsoring the first Fred Korematsu Day celebration. The event, to be held at the University of California, Berkeley, will feature the Rev. Jesse Jackson and a video tribute from Representative Keith Ellison, a Democrat from Minnesota, the first Muslim elected to Congress. Earlier this month, the Institute also shipped hundreds of Korematsu teaching kits to K-12 teachers around California.
Read all about Mr. Korematsu here at Time (thanks to Tanya of Full Contact Enlightenment for the heads up via fb).
~
My nod to Kant comes from the obvious connection between Mr. Korematsu's work and Kant's notions of rights based on respect for human dignity, notions which were sadly lost with regard to Japanese Americans after the US entered WWII. As Mr. Korematsu is honored today and the Rev. Martin Luther King Jr. was honored earlier this month, we must also see that many groups continue to face often intense discrimination in the US (and pretty much everywhere in the world really).
Kant's moral philosophy rests on the universal dignity of human beings. Needless to say, this lofty ideal has been attacked from all sides over the last 200 years (I myself find great fault in his exclusion of non-human animals), but nevertheless, his work has helped clarify our language and understanding of rights. Most importantly, he gave us an argument for rights that did not rely on a creator God.
And it is rights, which, when embodied in law, constrain a state and individuals in what they can do to others out of fear or the quest for the common good. It is with a firm grounding in rights that we can talk about the immorality of American concentration camps. Without rights all you can do is argue (endlessly) about hypothetical situations regarding how many people might have been hurt or killed if this or that different course of action was taken. And we all know that the desire to justify atrocities can often go to incredible lengths to find and defend shabby reasons.
And so I turn to a quote – extracted from a soon-to-be provisionally completed section of my thesis – regarding the continued skepticism about rights.
Alasdair MacIntyre, in his celebrated revival of virtue ethics,
After Virtue: A Study in Moral Theory,
boldly asserts:
[T]he truth is plain: there are no such rights, [i.e., human rights, natural rights, rights of man,] and belief in them is one with belief in witches and in unicorns.

The best reason for asserting so bluntly that there are no such rights is indeed of precisely the same type as the best reason which we possess for asserting that there are no witches and the best reason which we possess for asserting that there are no unicorns: every attempt to give good reasons for believing that there are such rights has failed. (2007 p. 69, emphasis in the original)
MacIntyre is no dilettante in the world of moral philosophy. He has held posts in philosophy across top universities in the US and currently holds a post in London. What do you think of his quote? I first read it in around 2005 (in an earlier edition of his 1981 book) and all I'll say for now is that my views have, well, changed a bit over the years.
As you think about his quote and about rights, here is an excellent recent talk by MacIntyre "On having survived the academic moral philosophy of the twentieth century". (the last 10 minutes [part 4] is pure gems)