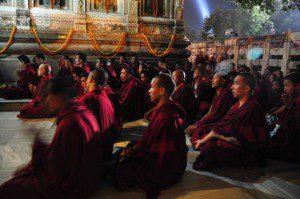 "As long as they aren't waging war, the rest of the world just ignores what's  going on in post-occupied Tibet."
These were the sentiments of one scholar who recently posted yet another link to a news story discussing self-immolations in Tibet.
Robert Thurman last month passed on the news that the self-immolation of Tibetan Monks reached the top of TIME magazine's list of underreported stories of 2011. The image below, from the Telegraph, provides just a tiny glimpse into the conditions that monks (and no doubt others) must endure in Tibet.
Having lived in Bodhgaya and knowing many Tibetans in my life, I can tell you this is painful to see. The Tibetans I've known have almost all been amongst the most joyful, kind,  intelligent, and humorous people I have ever met. I recall that a student from a previous year in the Antioch program where I taught had been so touched by the humor of the Tibetans she met in India that she wrote her Independent Study essay on the humor of Tibetans. And of course for most readers I don't even need to begin to write about the amazing art, architecture, festivals, philosophy, and practices of Tibetan Buddhists.
What is being lost in Tibet is a human treasure that can never be reclaimed.
And as Tibetan life and culture is destroyed in its native land, it is finding new vehicles for preservation outside it. Two new museums are reported to have opened recently in Bodhgaya, both dedicated to Tibetan causes:
Both the Tibetan museums were inaugurated by Arunachal Pradesh Chief Minister on 29th and 30th December. While one museum will be completely dedicated to [the] Dalai Lama and his life along with compilation of pictures and documents showcasing Tibet during various stages of history, the other museum will showcase and commemorate 50 years of the Tibetan medical and Astrological Institute of His Holiness the Dalai Lama.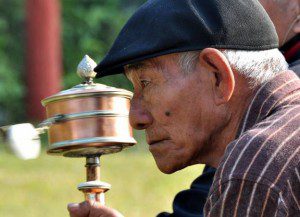 Let us hope that trend of destruction and museumification does not continue unimpeded.
update: I wanted to add two excellent articles for further reading. The first is by George Heymont, titled "Can the Culture of Tibet be Saved?" The second is a few years old, but it is by a Tibet scholar I have recently had the pleasure of meeting and talking with, Alexander Studholme. Alex is teaching now at Bristol University and was previously a lecturer at Cambridge. He writes, "The spirituality of Tibet is a lesson to China – and to us." I appreciated not only his overview of the China-Tibet situation, but also his reminding us of Rudolf Steiner's discussion of Ahriman and this notion's relevance to all of our lives:
"Ahriman," Steiner explained, "is the power that makes man dry, prosaic, philistine – ossifies him and brings him to the superstition of materialism."

Nevertheless, Ahriman also has his good side: he is responsible for intellectual advancement and technological progress.