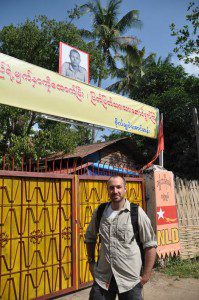 It has been a year and half since I was in Burma, which its military leaders renamed Myanmar in 1989. I was urged to go there by colleagues at the Antioch Education Abroad program in India where I taught in the fall of 2010. "The Lady" (Aung San Suu Kyi) had only just recently been released and elections held (claimed to be free by the government, but not by observers), and change was in the air.
Of course, I remember the 2007 monks' protests and the change that was in the air then too. No doubt change has been in the air a few times in the recent past, but little ever came of it. But now, with The Lady not only free, but freely traveling and speaking neighboring Thailand and around Europe, there is perhaps greater reason for hope. She is scheduled to visit the US and to be awarded the Congressional Gold Medal next month. She was also elected to parliment this year, along with 42 other NLD (National League for Democracy) party members. This after the party had once been officially disbanded and many of its members jailed.
Yes, this is a time for cautious optimism.
So it is with good timing that Joshua Hammer, of the Smithsonian magazine, profiles Aung San Suu Kyi and her "secret weapon:" Buddhism:
After being isolated in her home, under house arrest for over two decades as she led Myanmar to democratization, Nobel Laureate Aung San Suu Kyi reveals how she managed to survive her time in solitude, speaking at length about the role that Buddhism has played during her confinement. The Buddhist practice of meditation kept her calm and able to cope with the pressure, which was especially important during the last seven years of her imprisonment. During this time her principal nemesis was Gen. Than Shwe, an erratic, superstitious leader who harbored a deep antipathy toward her and even reportedly used black magic rituals against her.

It is impossible to understand Aung San Suu Kyi, or Myanmar, without understanding Buddhism. Yet this underlying story has often been eclipsed as the world has focused instead on military brutality, economic sanctions, and, in recent months, a raft of political reforms transforming the country. During the darkest days of the dictatorship, after the arrests of most secular political leaders in the 1990s, it was the monks who led resistance to the junta. But even in the darkest corners of the regime's gulag, Buddhism has served as a source of light for the Burmese people. (continue reading…)
And don't miss the Gatestone Institute's Irfan Al-Alawi's recent discussion of religious tensions in the region.