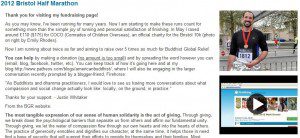 Wow. Time is passing quickly. I now have four weeks of training time for the 2012 Bristol Half Marathon.
The bad news is that I injured my knee playing soccer (football) a couple weeks ago. But the good news is that after a week off it was feeling okay again and this last week I managed two good runs and some tennis with friends with no problems.
Tomorrow I'll do another long run, pushing to 8 miles, or 9 if I'm feeling up to it. With luck, the next 4 weeks will all go well and I'll have a great race day. But, over those weeks I'll need your help. I'm running to help raise awareness and funds for Buddhist Global Relief, an amazing organization serving people around the world.
Buddhist Global Relief is a simply fantastic organization. You can click through my fundraising page to find out more about there many "Walk to Feed the Hungry" events – contribute there, join one near you, or find out about creating your own.
I'm 31% to my goal now, thanks to many wonderful and kind supporters and friends. I need your help though now, to get up to at least 50% in the next 10 days. So please – make a very small donation. $1 or $2 is great. And you'll be added to my list of 'thank yous'. If you have a cause or website you'd like mentioned, all the better (you can add it in the comment section when you contribute).
If you can't help financially, please spread the word – facebook,
twitter
,
G+
, etc. For those in the UK especially, please note Richard Dillon's event in
Yorkshire on the 29th
. These may be lean times for many of us, but if you visit
the webpage for the walks
, I'm sure you'll agree that their cause is worthy of whatever we can give.
My personal thanks to those, including Richard, who have helped out so far:
8/14/2012 $20.00  Richard Dillon Thank you for supporting Buddhist Global Relief in the UK
$10.00  A Friend
$15.00  Saijie Sim
$75.00   Anonymous
$50.00   Emily Rhodes
$10.00   Anonymous
$10.00   Dharmabrother
$50.00    Lynette Monteiro
$50.00    Marnie L. Froberg
$50.00   Charles Prebish For all American Buddhists