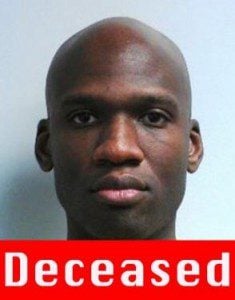 Thirteen people are dead as of this writing. Our understanding of what happened is still unfolding (including an NPR story stating that this was not deemed an act of terrorism), but one twist in yesterday's events revolves around shooter Aaron Alexis's religion, which turns out to be Buddhist.
As Buddhism has spread in the West, it has put forth and maintained an image of being a peaceful religion. This is a myth that still holds fast among many, if not most, Western Buddhists and it is one I bought into, at least provisionally, in my undergrad years studying philosophy (and Buddhism). But it didn't take long in graduate school, looking closely at Buddhists in history – in my case the history of the Dalai Lamas – to see that a great deal of violence has been present in Buddhist societies.
Buddhism in this sense is not entirely non-violent.
For those, like me, who like to focus on texts – especially the earliest ones – there can be a sense that Buddhist teachings are thoroughly non-violent.
So the idea might arise that "Buddhism" stripped of all its cultural past could be the non-violent cure to our violent world. But stripped how? And down to what? And by who? These are questions that need to be asked in any conscious attempt of appropriation of Buddhism in the modern world – if, in fact, that is what one is looking for.
Meditation is often touted as a likely candidate for "what we can take away from Buddhism" – tradition, hierarchy, history, culture, and superstitions be damned. However, as we found out in the case of Anders Breivik in Norway last year (The Dark Side of Meditation), meditation alone may have no effect whatsoever on one's morals and hence overall life. And it might also, as many people find out early in the process, actually open up deeper layers of pain, anger, and guilt that have been effectively repressed.
Willoughby Britton and Michael Stone discuss the "Dark Side of Meditation" in many of the same terms: the problems of Western bias, even among academics and scientists, the emotional/physical issues that can arise in meditation, and the need to remain grounded in tradition or at least a rich theoretical framework:
So what does this tell us about Buddhism's role in the actions of Aaron Alexis? Not much. As with the two Muslim men who killed the British soldier in London last May (see Buddhism, Islam, and a serious talk about fundamentalism) other factors are clearly more important than religion. The role that Buddhism played is, if anything, a diversion from other issues, specifically Alexis's mental illness:
Seattle police released details late Monday of another shooting incident in 2004 in which Alexis shot the rear tires of a vehicle owned by a construction worker doing work in his neighborhood. Alexis told police he had an anger-fueled "blackout," but added that he felt he had been "mocked" and "disrespected" by the workers.

Alexis also told police he was present during "the tragic events of September 11, 2001" and described "how those events had disturbed him." Detectives later spoke with Alexis' father in New York, who told police Alexis had anger-management problems associated with PTSD, and that he had been an active participant in rescue attempts on 9/11.
In fact, while his meditation might have opened up some violent feelings, we have to be careful not to suggest that he was part of a violent religious group or one that in any way condoned violence. As I wrote in the case of the killings in London, it helps to get some perspective (historical, textual, etc) on the religion and violence – so re-read/listen to Buddhism and Violence on the BBC.
If knowing that the shooter was a Buddhist allows us to empathize just a tiny bit more with him, all the better. It is too easy to dehumanize him, to other-ize him in ways that conveniently leave us disconnected from his actions. But while I may have some connection with him through his religion, I find a much easier wellspring of empathy when I see him as a traumatized young(ish) man trying to get by in America, a nation that leads the world in mental illness but lags far behind in help for those who are ill.
As taxpayers and citizens we all have a connection, a karmic bond if you'd like, to the growing failure of mental health care in America. In a more recent article, WaPo points out that, "Access to mental health care is worse than other types of medical services" in America and "Mental health care is pricey, with 45 percent of the untreated citing cost as a barrier." The only good news in the article is that "Recent federal legislation requires more expansive insurance coverage for mental health services."
So that is one area of action we can and should turn to – national and state political support for the mentally ill. But a second area is within our sanghas. Could members or leadership at the Thai temple he meditated at have spotted Alexis's problems and found some way to direct him toward treatment? Are there any resources out there for sanghas? If not, these are things that should be developed, along the same lines as the codes of conduct that have popped up, been discussed, and spread in the wake of recent scandals.
Yes, Aaron Alexis was a Buddhist, but first and foremost he was a fellow human being, suffering very deeply in a world that could have helped him, but didn't.

If you, or someone you know is in crisis, please seek help immediately. Contact the following organizations for information about 24-hour crisis services in your area:

The National Suicide Prevention Lifeline's 24 hour toll-free crisis hotline, 1.800.273.TALK (1.800.273.8255) can put you into contact with your local crisis center that can tell you where to seek immediate help in your area.

The Child-Help USA 1.800.4.A.CHILD (1.800.422.4453) crisis line assists both child and adult survivors of abuse, including sexual abuse. The hotline, staffed by mental health professionals, also provides treatment referrals.

(via Mental Health America; see also the National Alliance on Mental Illness and the PTSD Hotline)
* you can read my "mea culpa" and discussion of reactions to this here.