Perhaps the greatest human rights tragedy of our time is unfolding now in Burma (Myanmar). A number of conferences have been convened over the last couple years to discuss various aspects of the violence there and today we are lucky enough to have global access to one of these conferences, held at the London School of Economics.
While academic writers such as myself, Danny Fisher, Paul Fuller and others have consistently written about events in Burma and discussions around them, wide-spread public interest has only come in periodic waves, usually responding to particular atrocities. This is an opportunity to further familiarize yourself with the situation in Burma and commit to some level of sustained support for the Rohingya there and pressure on authorities to end the violence.
For those of you who are Buddhist or sympathetic to Buddhism, I offer the following (paraphrased) from Maung Zarni, speaking earlier at the event:
"The question of the Rohingya is the central most existential challenge to me: both as a Burmese and as a Buddhist. Because, on the question of the persecution of the Rohingya we as Buddhist Burmese people who claim to subscribe to the Buddhist philosophy of Loving-Kindness, are violating the very principle on which our collective identity as Buddhist Burmese people … This is not simply a research work, that I pursue professionally. This is an existential challenge. So therefore, I throw my lot in with the Rohingya, who I consider Myanmar [] and my own kind."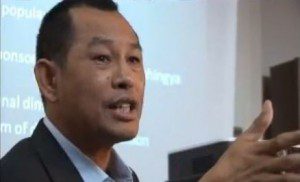 Click here for a full programme for the event.
Follow here with live-tweets on the Rohingya LSE conference happening now. Tweets for the day are here and video can be found below.
Live Stream:
https://www.youtube.com/watch?v=JR-rilv4RK0
Video introducing the event, shown by Maung Zarni (thanks to @JamilaHanan):