World number 1 tennis player (now #2 behind Nadal), Novak Djokovic has scraped through a tough match against the Croation player Marin Čilić and an equally thrilling contest with Bulgarian Grigor Dimitrov. That brings the Serbian Novak Djokovic once again to the Wimbledon finals (games start at 2pm GMT / 9am EST, Sunday, July 6th).
Last year, when Djokovic was in the same position playing against Andy Murray, it was widely reported, including here, that part of his training included visits to the local Thai Buddhist temple for meditation. While never claiming to be a Buddhist, Djokovic has nonetheless incorporated traditional Buddhist practice into his life. Since then we have had numerous occasions to ask if mindfulness or meditation alone could really be a force for good in the world. As I wrote in February about Google's famous "Search inside yourself" mindfulness program on display at Wisdom 2.0, mindfulness alone can lead to a smug detachment from the suffering of others, instead of a warm concern.
In the case of Djokovic, however, we seem to see more of the latter. So if you're unsure who to support at Wimbledon but appreciate the practice of meditation and overall nice guys, he's your man.
Here is some of what I wrote last year on the topic:
It seems that when Djokovic isn't on the court or otherwise being pretty all-around-awesome (see below), he spends at least some of his time meditating. When he was asked about his meditation practice at a Buddhist center in Wimbledon village, he responded:
It's very calm and quiet, obviously. I stay in a house which is very nearby. This is a place which we all visit. We like Wimbledon and London in general because there's so many beautiful parks and nature, places which you can call getaways, where during these two weeks of a hectic Grand Slam atmosphere that goes around, so many people, obviously there is huge amount of pressure and stress and everything involved, so you need to have a place where you know you can switch off and recharge your batteries.
The temple, which is open to everyone, is a Thai complex called Buddhapadipa.
The Telegraph reported:
Sutheera Pflughaupt's face lights up when Novak Djokovic's name is mentioned. She is a kitchen volunteer in the Buddhist centre the world No. 1 visits to meditate and "recharge" between matches at Wimbledon, and over the years they have grown close.

"He stays in the house next door every year, for many years," she says of the Serb. "I have a photo with him every time. Tomorrow I have tickets for the Centre Court, maybe I will see him play."
The story continues with an interview with Lynne Parry, a volunteer at the Temple, saying of the practice: "It's all about the moment, focusing on the now, not the past or the future. And it's about people – the Buddha wasn't a god, he's a man."
The winning news title goes to the Bangkok Post with It's Wimble-Zen as Djokovic gets inner Buddhist peace…
As perhaps needs to be hammered-in far more these days, a key part of making mindfulness work is having a strong foundation in sila (ethics) – my thanks to Genju from 108zenbooks for pointing this out in comments to a recent post here. When it comes to ethics, Djokovic is doing pretty well: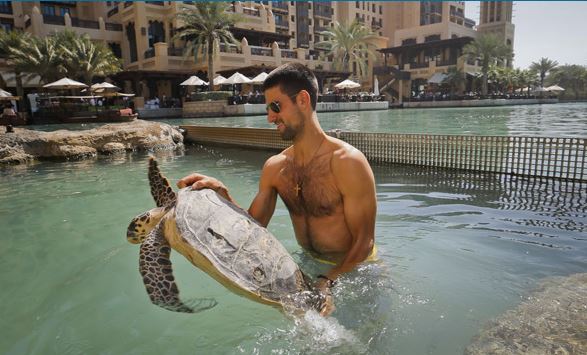 And: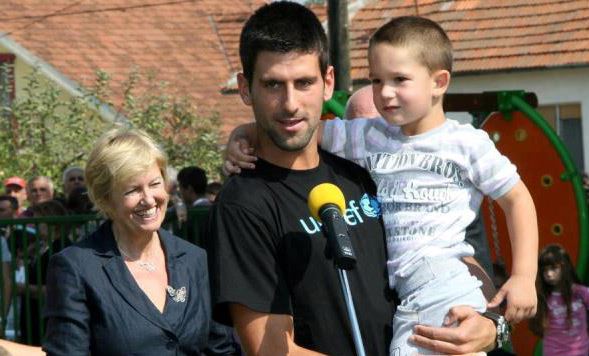 Just so you don't think these are one-off PR stunts, have a look around his Foundation.