Wrapping up what has been an unexpectedly interview-filled month here at American Buddhist Perspectives, I am pleased to present Eileen Flynn, who co-moderated last week's interfaith panel on the topic of "why am I here?" Video from the event should be up at Deily.org on March 1st. My hope is that between this interview and the earlier one with Rev. Dr. David Zuniga, more people will go see the video and feel encouraged to start conversations like this in their own communities.
So, getting started, can you tell me a bit more about yourself and your role in Thursday's discussion?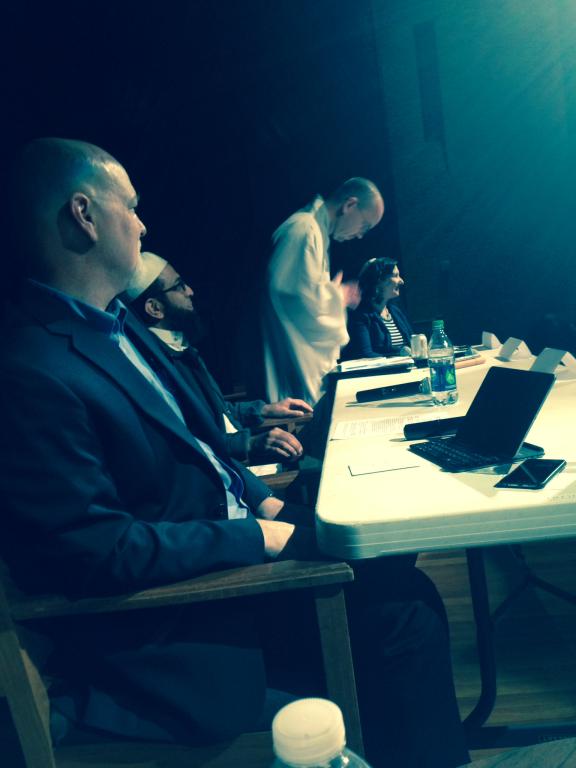 I was the religion reporter at the Austin American-Statesman for many years, and I teach a course called Journalism & Religion at the University of Texas. So I am in regular contact with local faith leaders. When Baptist pastor Tom Goodman and Zen priest Dr. David Zuniga started brainstorming a plan for an interfaith dialogue, they asked me to participate. I served as a co-moderator with Dr. James Kraft, a professor at Huston-Tillotson University where we held the event. Our job was to keep the conversation flowing among the panelists and audience and to monitor Twitter. Audience members were tweeting questions and reactions during the discussion.
Broadly speaking, how do you think the event went?
I think it went surprisingly well. I say "surprisingly" because we were navigating some unfamiliar territory – interfaith dialogue that focused on the differences rather than the similarities. This felt like a real departure from the discussions I've written about in the past. And there were certainly some tense moments. Yet, the overall vibe was really warm and collegial and filled with good humor. The panelists had the audience laughing several times.

I had forgotten just how highly educated these four people are. Tom, David, Rabbi Amy Cohen (Reform) and Shaykh Mufti Mohamed-Umer Esmail (Sunni) are all incredibly smart — and, thankfully, very personable.

One of the audience members said he wanted to take all the panelists out for a beer afterward because they seemed like really easy people to talk to. To me, that's a great compliment, especially here in Austin.
Having representatives of the three major Abrahamic religions and just one "other" perspective at the dialogue will seem lopsided to a lot of people. Did the organizers and presenters find a way to acknowledge this and address issues of exclusion and inclusion?
It was disappointing that we did not include Sanatana Dharma/Hinduism, which is the oldest of the major world religions and the one that I believe is the least understood in the West. The panel did not officially recognize the absence of Hinduism. In retrospect, I wish we had offered some explanation on how we decided to feature these four traditions.

Personally, I wish we could have included the Baha'i faith as well as atheism. But, of course, the bigger the panel gets, the harder it is to have this kind of intimate conversation. So I do see why the organizers wanted to limit the number of panelists. I'm hoping we can do more of these dialogues that feature other faiths and philosophies.
Can you tell us about the dynamics between the presenters' approaches; were there interesting and memorable points of similarity or difference among the Jewish, Christian, and Muslim speakers? What about David, representing Zen? How did his presentation fit in?
Each panelist had a unique approach to the four questions we asked them to address in their introduction.

It was interesting to see how David and Amy had some overlap in terms of the practical aspects of living in this world. David spoke about overcoming suffering and Amy explained the Jewish obligation to repair the world. Those ideas seemed to dovetail nicely.

Later in the discussion, both David and Amy fielded questions from my co-moderator about why they weren't concerned with heaven and hell. James, a Catholic, said he and his students found the Buddhist concept of Nirvana "depressing." They want an afterlife. After James really pressed him on this, David finally told him he was conditioned to think that way. It was a nice bit of pushback – and really the very type of honest and challenging discourse we wanted to see.

Another nice moment of divergence from the Abrahamic faiths came when David asserted that no tradition is the best tradition, including Buddhism. He urged people to find the most "skillful practice" for them. This is not a statement you would imagine coming from an imam or a Southern Baptist pastor.

That said, when Shaykh Umer was describing how a Muslim should live —do good, be kind — an audience member tweeted that it reminded her of the Dalai Lama's statement that "my religion is kindness." We don't often hear people comparing Muslim clerics to the Dalai Lama these days. It made me really happy.
Often at events like this, the best moments come when an audience member gives a whole new angle on the topic or asks a particularly insightful question. Were there any 'a-ha' moments like that last night?
Our format did not allow for as much time as I would have liked for live questions from the audience. But James and I did monitor the Twitter feed throughout and saw some interesting ideas arise there. The people who showed up and used our hashtag (#SpiritualAustin) had very thoughtful questions and responses throughout the presentation. It was fascinating to get inside their heads a bit and see how they were reacting to the panel discussion as it happened. And a little uncomfortable at one point when a woman asked what the moderators' beliefs were!

For me, the biggest "a-ha" moment came when David shared the Buddha's Flower Sermon to demonstrate that so much of Zen is beyond words. You could just feel a collective moment of understanding.
Perfect! That really exemplifies the core of Zen for many people. And yet, as David said in last week's interview, "Zen has written so many books!" So there's often this 'a-ha' moment with the flower, then the teacher says, "now go study, learn more." I hope the event inspired people to do just that. Thank you so much for taking the time to share your experiences at the event. I look forward to seeing the video soon. Is there anything you'd like to add?
Thank you for the opportunity, Justin! I just want to say how impressed I am with our panelists. They took a risk by opening the door to confrontation and disagreement. Very often interfaith dialogue glosses over the differences and focuses on the commonalities among the world's religions. That's fine, too. But I see a deeper learning happening with this format. And I was thrilled to see such a cross-section of folks show up. We had some old Austin hippies, students and professors, Muslims, Christians, Hindus, even monks from the Burmese monastery. It was wonderful and very, very Austin.
~
Eileen Flynn is a veteran journalist who specializes in religion. She teaches the course Journalism & Religion at the University of Texas and frequently speaks to faith-based and secular groups about media coverage of religion and atheism. She also does freelance writing and editing. Flynn was the religion beat writer at the Austin American-Statesman for many years. She lives in Austin with her husband and two daughters. Her blog is: https://eileenflynn.wordpress.com/