We know anything can happen on election day and Nate Silver and the team at FiveThirtyEight is not infallible. We saw, among other surprises, Oklahoma flip from a very strong (>75% chance) Clinton prediction into a Sanders win in the primaries this year. And four years ago this blog got its 15 minutes of fame (forbes!) when I wrote about Nate Silver failing to give Jon Tester the predicted victory despite polling data giving him both momentum and a lead heading into election day.
For those who have been watching anxiously, Trump has risen rather dramatically in the final week after the FBI announced a probe of more emails related to Clinton. He was around a 11% chance of winning and moved up to over 35% before trending downward in the last few days (in part after the FBI announced it was done with its inquiry).
And today the map looks like this: with Clinton resting at over 70% likelihood to win the presidency and the big four battleground states: New Hampshire, North Carolina, Florida, and Nevada all tilting in her direction.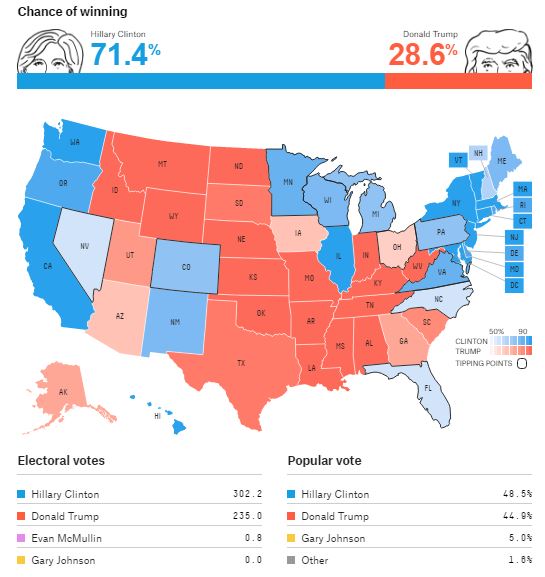 They also suggest she'll win 48.5% of the popular vote. This is in opposition to the latest 3 polls at RealClearPolitics which have Trump ahead by 2 points, Clinton up by 1, and Trump ahead by 3 (the last two being polls of a two-way race). The RealClearPolitics Average still puts Clinton ahead by 3.3.
What do you think? Are there states that will flip? Arizona, Iowa, or Ohio for Clinton? Pennsylvania, Michigan, Colorado for Trump? My dear Montana is currently projected at a 3.5% chance for Clinton.
Watch live results as they come in here (powered by Graphiq):

And take breaks often for meditation. You can sign up for Susan Piver and Lodro Rinsler's meditation tomorrow (and read Susan's post on the election while you're at it!). Download and try out Insight Timer. Read Tom Clements quick guide to loving-kindness, or my own writing on the four divine abodes, or Andy Lambert's piece on bringing the First Precept to the voting booth, or Robert McCarthy's post on turning toward service in apolitical ways, or Janet Miller's Beginner's Guide to Mindfulness: 8 Helpful Tips.
If all that fails, watch these kittens: