I recently started reading The 1001 Nights, one of my pre-Islamic readings for this year, and one of the questions that often arise when I search for this book is whether it is a misogynist narrative or not. The short answer, if you want to know, is not for me, but that it reflects the fears of insecure men.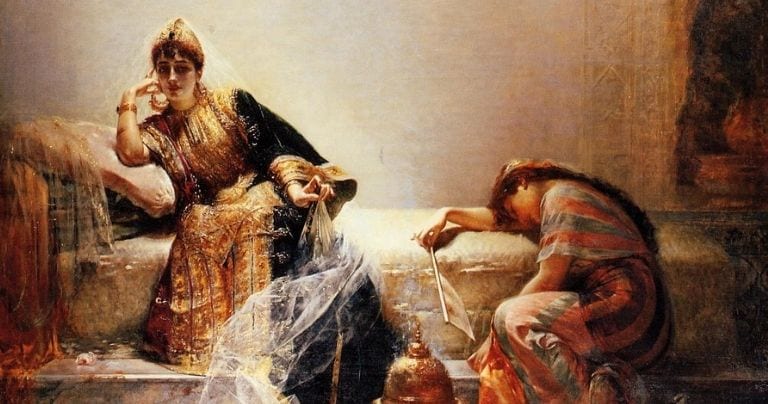 Before anyone asks which version I refer to, because there are many and there may be a few differences here and there between them, I have the Mahdi edition, edited Muhsin Mahdi, PhD., and translated by Husain Haddawy. This edition has been named the best one to date and its editor was an expert Islamologist and Arabist, so it's the only version I'm interested in reading for now. I would also be using the spelling of this book.
I also need to be clear about something: I barely started with the 1001 Nights, but what I've read so far gives me a really good answer. The women that have appeared at this point set the stage for the rest of the book, they determined what would happen in the next chapters (or should I say nights?) Far from being a misogynist book, I have found it to be actually empowering towards women but told from the perspective of fearful, insecure, and mentally-archaic men.
Getting into Context
Right from the beginning, we learn about the wives of King Shahrayar and King Shahzaman, who are unfaithful to his husband the minute they are away from them, cheating on them with their slaves. Both Kings leave in search of someone with a fate worse than theirs, which is a woman trapped by a demon since her wedding night. She has let the demon believe she is chaste and pure, while she has had sex with 98 men, now 100 with the brothers, as a form of rebellion. Back to Shahrayar's kingdom, this kills his wife like Shahzaman did at the beginning of the 1001 Nights but, while the younger brother will not marry another woman, Shahrayar decides to marry a different maiden each night only to be with her and kill her the next morning.
When there were no more girls between the commoners, the vizier's oldest daughter, Shahrazad, the protagonist of the 1001 Nights, decides to take the matter on her hands and protect the kingdom by offering herself as the King's next wife, but allied with her younger sister Dinarzad and with a plan to prevent more deaths by the hand of Shahrayar.
I wouldn't blame you if it sounds misogynist to you but, for me, it was reading about four women that found a way to rebel against their current lives. When I think about each case, I see rebel spirits that can't be tamed, no matter the men that surround them. Therefore, these men need to eliminate them because they prove to be a menace to their comfortable lives.
A Closer Look
The two Queens at the beginning of the 1001 Nights are the easiest case. Both women seek the slaves only for sex, which is an obvious indication that matters in the royal bedrooms haven't been really good with their husbands. Both Kings are so focused on their responsibilities with their respective kingdoms that their marriage is falling apart, and their wives are clever enough to hide it until Shahzaman discovers it by accident and makes his brother do the same. The fact that Shahzaman's wife was careless enough for her husband to notice it tells me she has been doing this for a long time. Her only mistake was taking her success for granted. The same happens with Shahrayar's wife, who believed in the word of her husband and didn't make sure both brothers were out before calling for her lover.
The prisoner woman we meet after has been lying and letting the demon who trapped her believe she is chaste, but she is anything but pure sexually speaking. Every time this demon sleeps, she takes her chance to force any man to be with her, taking a ring from them as proof of her rebellion. She is clever and careful enough to fool the demon around a hundred times, basically saying that if sexual chastity would keep her caged, she will embrace her sexual desire as often as she wants to.
Finally, we have Shahrazad, the heroine in the 1001 Nights, the cleverest of them all, who decided to walk right into the wolf's mouth to protect those in need. She offers herself as an object but her tales charm Shahrayar so much he keeps letting her live for another night. Pretending to be a mere sexual thing, which is what gives Shahrayar his power, Shahrazad strips him from the protagonism and assumes the role of a fighter as a storyteller, transforming the 1001 Nights in her own story.
More examples?
Those of you who have read at least one of the versions of this book could tell me that I ignored The Tale of the Merchant and His Wife, where a whimsical and spoiled woman cares enough about gossiping than her own husband. If taken literally, it is very misogynist, but oak has been called a tree of wisdom in many cultures, leading the reader to interpret this scene as the husband educating his wife even if she refuses, assuming the role of the father instead of that of a partner. Also, I see this as a lesson of behaving as what you want to be treated as. It wouldn't surprise anyone to know that in previous years spanking children was a common practice, so having a grown woman treated as such tells that she stops being an adult the moment she stops behaving like one. We could also add that this is also connected to the oak as a symbol of wisdom and learning.
I'm sure there will be much more examples, more lessons, and morals, but so far I'm amazed at the symbolism, the questions, and thoughts that arise as I read the 1001 Nights. Far from analyzing each tale, which would prevent me from writing any other thing (and could probably bore you to death), I'd rather focus on sharing my thoughts on it when something calls for my attention. I'm aware that many people call Arab women victims of repression and violence, and these tales could reinforce the idea without any problem, but one of the aspects I love about folklore the most is how flexible it is in terms of meaning.