I've been using a certain deck for a while now, and I've fallen in love with it already. It is one that I use only for myself, my blood relatives, friends, and people who come from an Arabic family. The reason is that it is the Tarot of the Thousand and One Nights, published by Lo Scarabeo, with art by León Carré, a deck that has a beautiful energy in it. I have used it several times, experimenting a bit when I feel bold enough, always with great results, and can see it becoming an important tool in my path.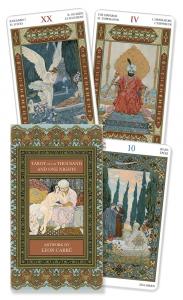 In the technical aspect, the cards have a comfortable size, a good texture, along good quality in all the images. They are strong enough to last a while, even to enjoy it as you shuffle them. I am known for shuffling for a while, some people even tell me that I get the cards dizzy for doing it so much, but it has always helped to do it as long as I need. With this one in particular I don't feel that I need to take a long time, just a few times to be ready.
However, as with many Lo Scarabeo decks, I find it bothersome that the cards have the names in so many languages around the images. This is particularly remarkable when the Arcana have such a thick border around the images with many details, just the way we usually find in Arabic art. I had a hard time trying to focus on the images themselves because of it, so you will need to have some patience with the Tarot of the Thousand and One Nights if you are like me in this regard.
Energetically speaking, it is light, simple, direct, but with fiery, uplifting energy into it. There are a few cards with some darkness imbued, from the more obvious, like The Devil, The Tower (retitled as Danger), Death, and other more subtle about it, like the 7 of Wands, the 8 of Cups. However, it is a very happy, colorful deck, and that translates into the feelings you get while holding it. You get excited about the readings to come and want to keep doing them, but it is not addictive in any way.
As for the readings themselves, it is very easy to get in the mood after some practice, to get a message right away when you look at the cards. My first tries with it were a bit difficult, mostly because it's the first time I use a deck like it. I'm usually into dark, Gothic artwork, so this was a major change for me. I also got the impression they were trying to say more than my other decks, and truth be told, I got farther than with them. Tarot of the Thousand and One Nights could be intimidating at first, but I liked how easy is to go beyond the standard meanings once you get used to it.
Finally, there is something that caught my attention while learning to work it: while I usually put the cards from left to right, I felt the need to do it at the inverse when I first tried this deck, just the way Arabic is written like. I tried to put the cards as I tend to do after the first reading, but I found it hard to recognize the messages that way. When I put them back the way they are supposed to be, I knew I'd have to do it like that every time I used them.
Easy to love and to get used to, the Tarot of the Thousand and One Nights became one of my favorite decks very quickly. The art is amazing, the quality is top-level, and the energy infuses you enough, so you can connect with the cards in a second. While it may seem that I'm saying it is an addictive tool, you will know once you need to stop, even getting uncomfortable with the idea of keep doing readings after that, not because you get tired, but because it is not right. An interesting, fascinating deck I won't forget about any time soon.
For those of you interested in watching the whole deck, here's a full flip-through I found on Youtube. While I like a different kind of Arabic music, I found the background of this one actually very enjoyable.
Tarot of the Thousand and One Nights
Length: 78 cards
Publisher: Llewellyn Publications; Cards edition (August 8, 2005)
Publication Date: August 8, 2005
ISBN-10: ‎ 0738707643
ISBN-13‏: ‎ 978-0738707648
About the Artist:
Léon Georges Jean-Baptiste Carré (23 June 1878 – 2 December 1942) was a French Orientalist painter and illustrator, noted for illustrating the book Le livre des mille nuits et une nuit, by J. C. Mardrus. (Taken from Wikipedia)