A few years ago the good people at Sojourners invited me to write a short article on the varieties of approaches to Christian nonviolence.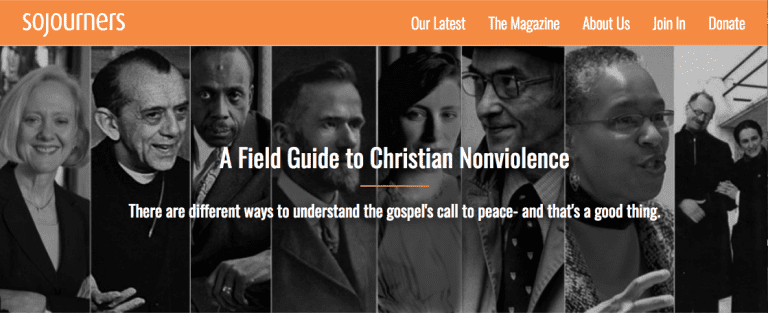 In "A Field Guide to Christian Nonviolence," Sojourners (January 2016), I describe eight distinct approaches to nonviolence, each exemplified by a Christian thinker or activist:
1. 'Realist' Nonviolence
Walter Rauschenbusch (1861- 1918)
Key Work: A Theology for the Social Gospel (1917)
2. The Nonviolence of the Disinherited
Howard Thurman (1899-1981)
Key Work: Jesus and the Disinherited (1949)
3. The Nonviolence of Christian Discipleship
André and Magda Trocmé (1901- 1971, 1901-1996)
Key Work: Jesus and the Nonviolent Revolution (1961)
4. Liberationist Nonviolence
Hélder Câmara (1909- 1999)
Key Work: Spiral of Violence (1971)
5. Nonviolence as Resistance to Death
William Stringfellow (1928-1985)
Key Work: An Ethic for Christians and Other Aliens in a Strange Land (1973)
6. Nonviolence of Mystical Radicalism
Dorothee Sölle (1929- 2003)
Key Work: The Silent Cry: Mysticism and Resistance (1997)
7. Nonviolence as Communal Practice
Lisa Sowle Cahill (1948- )
Key Work: Love Your Enemies: Discipleship, Pacifism, and Just War Theory (1994)
8. Resistance to Intimate and Societal Violence
Traci C. West (1959- )
Key Work: Wounds of the Spirit: Black Women, Violence, and Resistance Ethics (1999)
Now my friend Myles Werntz and I are refining that typology and expanding it into a book with the good people at Baker Academic. Each chapter discusses a unique approach to nonviolence (which slightly differ from the eight above), and we treat not just one exemplar but the entire tradition from the early 20th century to the present.
Be watching for the book (hopefully out in late 2020), and follow the blog for updates on the writing. In the meantime, read the full article at Sojourners. Then take their quiz based on the article: Which Kind of Nonviolent Activist Are You?