I've found a new trail to walk and learn: the Chehalis Western Trail, 21 miles of paved over railroad, cutting through unincorporated land and through two towns. It doesn't have the magic that I feel at Mclane, but it's peaceful, quiet, and new.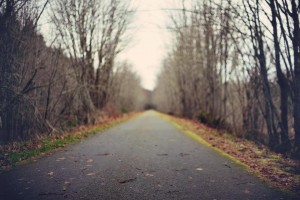 I've gotten out and about a little bit more in the last two weeks than I have in a while. I'm looking for signs of spring, signs of the shift to brighter days. I love winter. I love that we're in the thick of the quiet and the cold, but this winter's intensity is wearing on me.
The sunrises lately have been so beautiful — and they are coming earlier. The sun is setting later. The extra light feels good to the bones. I've noticed some of the bushes have a faint red glow — the new growth inching forward. One of the bushes at our house has teeny tiny buds. I feel like those buds: tiny, peeking out, not ready to bloom. I'm ready for the next season, but the time isn't right.
I'm not familiar with anyone spot here to recognize the micro-changes. That's one of the joys of knowing a place — being able to see the tiny changes. Even though I don't have that here yet, I'm definitely in rhythm with the light and larger pattern of this land and climate. That pleases me. Right now my personal reserves are very, very low. I am looking to the rhythm of light and land to feed me right now, give me a boost of energy to get through the rest of this cold season.
I feel like my inner landscape matches the land: cold, a little barren, but with patches of green, tired, muddy. I don't feel magically potent or connected.
I keep listening for the birds to sing. I keep watching for the bushes to bud. I keep waiting for the warmth of the sun. This is the thick of midwinter.