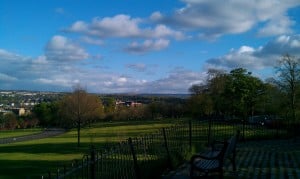 Usually I have a pretty good idea what I'm going to write about long before I sit down to submit my post for the week here on Sense of Place. Not today. Instead I feel more like writing poetry or sharing a stream of consciousness description of all the thoughts in my head about this place. I'll spare you the poetry today. So, stream of consciousness it is.
Last week I wrote about the lack of Spring-like weather here in Glasgow this Spring. Today is a most amazing and gorgeous day. I went outside at about 11am to take out some recycling and to pop into the local shop for a couple of things. I was utterly caught off guard by the fantastic weather. It's not just sunny and bright. It's comfortably warm with a light breeze. It is exactly the kind of weather I'd expect in late March in Oakland, California.
There is something about this weather that does more than just warm my skin, though. Just a moment outside, and my entire sense of the world shifted. My emotions were uplifted. I felt a spark of excitement. I'd go so far as to say that the emotion feels like anticipation, as if there's something to look forward to just over the horizon. I remember being a little kid and knowing that we were going on a trip to Disneyland in a week. The excitement of it was intense. No bad thing could crush that feeling. Of course, I'm a grown up now, and there's no Disneyland trips on my horizon (that I know of), and there is probably something that could crush my joy. This sunny day is just weather, right?
Not everyone gets happy in the sun
, I guess, but I'm definitely one of those people who is strongly affected by
the sun's antidepressant qualities
. One of the reasons I love snow is because it multiplies the light on sunny days and on full moon nights in the winter. I didn't get to enjoy much snow at all this past winter. I left Glasgow too early, and I only got to play in the snow during a 15 minute stop on the bus from Seattle to Oakland in January. The rest of the winter time was just foggy and rainy. Maybe that's why I feel like I need the sun so much now.
It's time to start planning some hikes. I need to get out of the city and find some trails. I've found a website full of walking paths with information about them, and another website built for tourists that explains things like the Scottish Outdoor Access Code. It's a little scary to plan a hiking trip outside of town by myself, though, to be honest. (Strange that I've never hesitated to take my children on hikes in Israel or Central America, the US or Canada, but now that I find myself childless in Scotland I hesitate to leave the urbanized areas without a local as guide. I wonder what psychological bug that's about!)