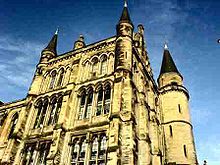 Last week I found myself on the Glasgow University campus and was struck by the feel of it. The area taken up by University buildings, old and new, is quite large, and the whole of it has a certain weight to it. There's a sense of something deep there.
Some of the University buildings are very old. The architecture looms large. Certainly that's part of the weight, but not all of it.
There is something else. I want to say that it's a scent, but that's not quite right. A presence is more like it. There is a presence that tells you that this place is an important place for thought. There is a presence that feels like long hours in a library with more books than you can count. There is something about the whole zone that feels like late nights studying, long hours standing at a lab bench, discoveries made and esoteric ideas debated.
Every school has a certain presence to it. Even your neighbourhood elementary school has its own spirit. High schools are often full of a certain tang of adolescent pheromones and exams that feel like they will determine the fate of an entire life. But universities are different. They are heavier. Some are much, much heavier.
I knew that I was in the University district before I saw the first signpost. I was looking at my tablet in the bus when I felt the shift. There was something I recognized in it, a similarity to Berkeley's campus or the many sprawling colleges of Oxford. It's not the same feeling, exactly, but they are recognizably similar.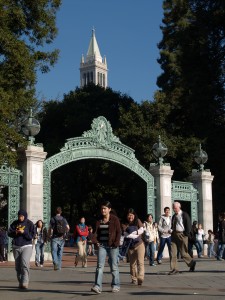 I remember the first time I ever really recognized that sensation. It was a few days after I got my acceptance letter to UC Berkeley. A friend and I went to the university to go buy ourselves CAL t-shirts to wear to class the next day at our community college to say we'd made it. There is a certain sense that you are in the University zone even a few blocks to the South of the main part of the UC Berkeley campus, but it doesn't get really profound until you walk through Sather Gate. After we got our t-shirts, my friend and I went to the Doe Library, home of the main stacks at Berkeley, and took the tour. The moment that I walked into that Library I knew that I was in a holy place. This was my new temple.
Later, when I was a student, I remember how amazing it felt to be walking on the stairs in Dwinelle Hall. The marble steps are concave where generations of students have walked the same paths. I used to think about how I was putting my feet in the same indentations where my father put his feet some 23 years before. There was history behind my awe, but there was so much more. It wasn't just the years and the students and professors that had walked on that stairwell. It was all the thoughts that had been conceived in that place. There's something profound about the residue of Big Thoughts.
When I lived in England, one of my favourite day trips was to drive or take the train up to Oxford. Oxford is different from Berkeley. For one thing, it's much older. It's the oldest university in the English speaking world, and the second oldest surviving university on the planet. It has so many more layers of history built up. For another, the residue of Thought is not confined to a single campus. The town is full of college campuses. Each college is a microcosm of the whole. Each has its own focus, its own personality, its own flavour. Together, they imbue every street, every bookshop, even the marketplace, with a certain weight of University Work.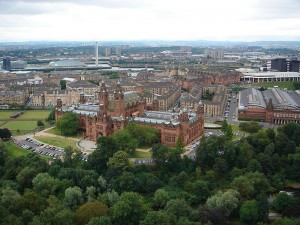 The University of Glasgow is the fourth oldest university in the English speaking world. It was founded in 1451. The current location of the university is about the same age as the UC Berkeley campus, so the sense I felt of added weight at the Glasgow campus can't be seen as a matter of accumulated history on that spot. Perhaps it's the architecture alone, but I don't think so. Perhaps the spirits of the old Glasgow campus migrated to the new location with the rest of the University. Perhaps there's something else entirely, something I'm missing in the equation.
Some people think of university as just a place to go to get a degree that will help you do better in your professional life. Some see it as the ticket to a middle class existence. Especially these days, when a university career can lead to years or even a lifetime of indebtedness, that hardly seems a good reason to go at all. Honestly, I don't think that most 18 year olds can get even a fraction of the value out of a university education. University isn't anything like what most people experience in primary or secondary school. For those who just go to the University to continue what they were already doing, there's a whole world missed.
It doesn't matter how long I'm out of academia myself. I still have a longing for the halls of a good university, for the intellectual challenges, the conversations, the piles of books that made my head feel like it would explode. I still love just going to one of these great places of learning and research just to sit and soak it all up. There are voices there, and they will speak to you in the stones and trees and books and even in the mouths of other humans soaking in the University next to you.