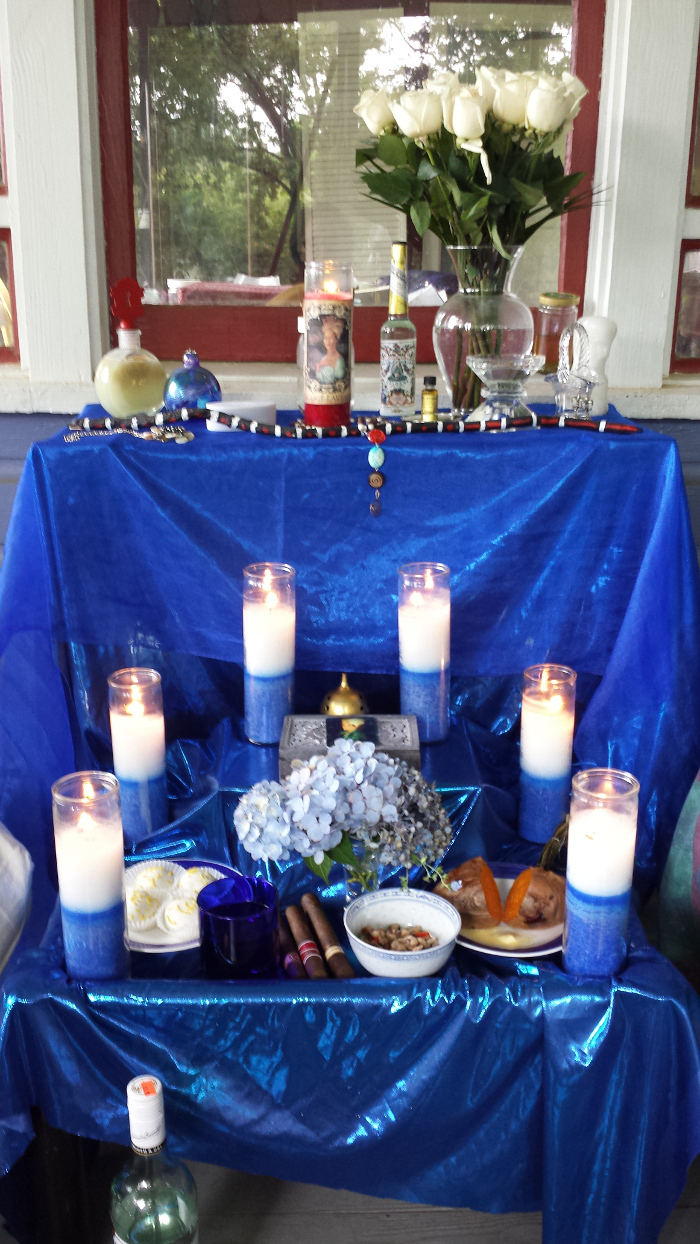 Marie Laveau has been on my mind of late. Ever since I went to Mardi Gras, actually, and visited her (reputed) tomb and left a token there among the offerings left by tourists and other pilgrims. I do that sort of thing fairly often, actually, usually at the grave sites of writers I admire. (William Faulkner and Eudora Welty both like bourbon). When I went back to New Orleans recently, I stayed in a hotel, the Inn on St. Ann, that according to legend was once run by Marie Laveau as a boarding house.
A lot of the information about Marie Laveau is like that…murky as swamp water, shaky as a bayou log. She was probably two people, Marie the elder and Marie her daughter, and there are birth and death dates but they are not confirmed. The name on the mausoleum where she (which one?) is said to lie is Glapion. The fact that she has become a figure in popular culture as well as local legend doesn't help matters any; American Horror Story is just the latest in a long series of depictions of "the Voodoo Queen of New Orleans" as spooky and threatening.
Yet her presence is everywhere in New Orleans, her tignon-crowned portrait nearly as ubiquitous as the fleur-de-lis. And the Marie of New Orleans is not the Marie of pop song and TV show; on her home turf, she's something between a rising lwa and a folk saint. Her legend includes emphasis on how she was a shrewd business woman (a hairdresser as well as a rootwooker and priestess) but also a defender of the weak and healer of the sick. During a yellow fever epidemic, she turned nurse and sat with the dying while many of the more well-off citizens fled. Born into a world that didn't think her of much account (illegitimate, of African descent, a woman), she arguably became one of New Orleans' most powerful citizens of the time…and is now one of its most famous.
She has of course become part of the living practice of New Orleans Voodoo, and this St. John's Eve just past I decided that I should build her an altar. I drew heavily on this article by Denise Alverado, and also made the St. John's Eve Blessing Water from the recipe posted by Lilith Dorsey. But the first thing I did was to consult with a local Voodoo store (yes, a real one) called the Black Cat in Conyers, Georgia.
Actually, the first thing I did was to get some river water. This involved scrambling down a bank next to US 78 and employing a stick to scare away any basking snakes. I like snakes, mind you. I just don't like a startled snake any more than it likes me…
Thus began the kind of rambling odyssey I have come to realize is a hallmark of my relationship with the numinous. I had actually originally thought to go to the Buford Highway Farmer's Market, because they have many seven-day candles and they are cheap. (Capricorn here). But then it struck me that I definitely should go to the Black Cat, because, I reasoned, they would have everything I needed in one place.
Turns out they were moving (into a much bigger space) and no, they didn't, alas. I got the last Marie Laveau candle they had, and a stick painted to look like a snake. The store owner was very helpful, though, and had several suggestions. "We are out of Florida water, but you can use holy water. They have it at the monastery."
Monastery? Oh, right. There's a monastery. Conyers is also the location of the Covenant of WISE. Why Conyers, Georgia is such a hotbed of spiritual activity, I could not say.
I had lunch at the monastery and a nice walk, put money in their alms box (Marie likes charity), bought some things…They have a green cemetery which I resolved to investigate later. One of my friends called; she had just been to the Black Cat on a similar mission, and we divvied up the rest of the treasure hunt. So from there I went to a Hispanic grocery, to her house where we made the blessing water and a big mess, and then got lost. Sort of lost. That is, my phone battery died and I took a turn that sent me back into downtown Conyers…and right past a tobacco shop. Oh, right, cigars. Yes, ma'am.
This is how it usually goes. I did not go to a single place that I originally meant to when I started out, but did go to several places I didn't. Some I'd never been to before. I had been wanting to go to the monastery for years, just because it seemed so strange and European a thing to have in the outer suburbs of Atlanta, but had never made it. It might be said that a Catholic monastery is not the usual place one would expect to find a witch raised Southern Baptist, but I have also spent an unusual amount of time around Chinese Buddhists and Orthodox Jews. My life is interesting that way.
I started out thinking of Marie Laveau as a kind of local spirit of New Orleans, and wound up learning a lot about Conyers. That's how that goes, too.
I went home, built my altar, made sweet potatoes and black-eyed peas, then just sat by the altar for a good long while. There is a pleasure and a peace in such observances.
I had bought a prayer card in a shop in the French Quarter filled to the brim with "voodoo" tchotchkes and spooky tourist bait. On the front is an image of the 1920s portrait of her by Frank Schneider, based on an earlier, contemporary one. On the back it says, "Benevolent Marie Laveau, who draws her strength from the Loas, I trust in your protecting love and strengthening power. In your kindness, give me the fortitude to confront the misfortunes I meet and strength to overcome my weaknesses." The Marie Laveau of historical fact is a shadow; the Marie Laveau of pop culture is a caricature. But the Marie Laveau of collective memory is a light.