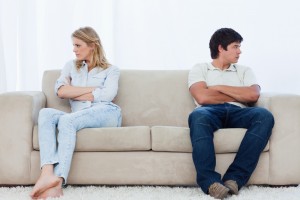 To answer this question, we must contemplate which acts are considered "out of bounds" in marriage.  Here are 7 important boundaries that spouses SHOULD AVOID to cultivate a strong marriage:
Ignoring your spouse.
This probably seems like a no-brainer to most of us, but tragically, this happens all-too-often in marriage. Some spouses do this to punish their spouse when they don't get their way. Others ignore their spouse simply as a means to avoid talking about hard issues. Whatever the motivation, we shouldn't avoid our spouse and emotionally shut them out of our life. When we do this, we break down the intimacy and leave ourselves and our spouse open to forming unhealthy habits and the temptation to seek connection outside the marriage.
We must always be willing to talk to our spouse regardless of whether or not we feel like it. We make eye contact and connect with him/her because we love and respect our spouse. And, the more we do this, the stronger, healthier, and happier our marriage will be.
Click CONTINUE for the next boundary…