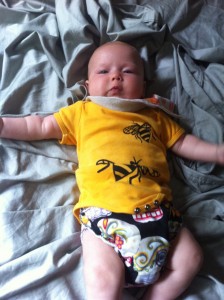 Our new property has much to tempt the bees. The land is lush and fertile. In a month of 80+ degree weather the land has stayed verdant thanks to the abundant weeds! The farmed garden is producing tomatoes, potatoes, mint, mullein, comfrey, chard, kale, cilantro, and more. Flowers include roses, poppies, and several other things I don't know. We have blackberries. And oh, do we have clover, buttercup, and morning glory in abundance! There is also some fireweed sprouting here and there.
The land hums in the evenings. Bugs and birds are legion. While the grounds of our last house were lovely,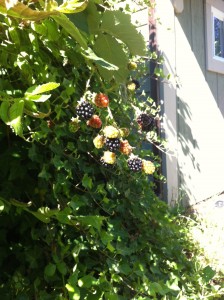 the landlord used all sorts of weed killers. What a difference being pesticide free can make! The life is TEEMING. Bees buzz around. Butterflies flit. Birds nibble.
The neighbors keep bee hives. They generously give us honey now and then. My husband and I talk about getting bees. Maybe in a few years.
Sadly, my 6 year old son has been stung twice this summer. Once on the head at our friends' house. The bees were getting angry about something and as we were getting out of their way, my son and neighbor got stung. Then yesterday he collided with a spooked honey bee and got stung on the chin. I try to convince him that bees won't go out of their way to hurt us. But he's wary now. Twice in one summer! And me, nearly 40, with never a single sting.
Before the recent spate of bee related posts, my husband and I decided to name our house. The name calls bees to mind. In Wales nearly every home had a name. Most of the houses didn't have a number in their address, but instead a name, then street, town, county, postcode. We have decided to name our home Dolau Melys/Sweet Meadow. Melys is related to the Welsh and Latin words for honey, mêl, and the name Melissa is related.
So now I have a sweet baby and a sweet meadow. It is fitting and right. It's a lot of work, sticky work in the hot summer, but oh how sweet this life is.