Almost every witch, shaman, or spirit worker I know talks about working with their Ancestors. Some magicians do it. Polytheists, if they don't work directly with their Ancestors, usually have ways in which they honor them. But me? I'm terribly conflicted.
See, I understand the theory behind most Ancestor veneration and spirit work. It reminds me a lot of the tradition of Saints in Catholicism. Why not send up a prayer to some one who is invested in my well being and has experience in a certain area? Why not reach out to the Beloved Dead? I can't think of a single religious tradition that doesn't somehow honor their dead.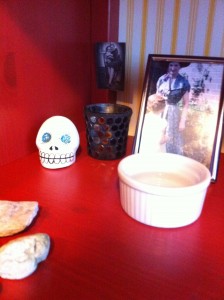 I, too, honor my Ancestors. I have a section of my altar set aside for Ancestors and Mighty Dead. In that corner is a sugar skull, pictures of Victor and Cora Anderson and my namesake (my maternal grandmother), a black glass votive candle, and a ramekin of water, which I clean and refill on every dark moon. I regularly wave incense and on Thursdays I honor my Teachers, Guru and Godsoul, which involves the Andersons. My Godsoul, too, is part of my Ancestors.
Every Samhain I honor the Mighty Dead and beloved family members. My family has a dumb supper and we create a special altar on the dining table. Some years I feel more pulled to honor some relatives more than others, but there are a few who are always present.
So I'm not entirely ignoring my Ancestors. I'm honoring them, but I am not working with them. Why not, you may be asking. Here is my list of excuses.
Firstly, I've never been one to see or hear the Dead. I've known a couple people, who without any formal practice or religion of their own, have had innate abilities to see and hear the Dead. I can tell you that I do not envy them! I have rarely had a knocking in my skull from my Ancestors.
Secondly, I don't know much about my most of my ancestors. I come from highly adventurous stock, but few of the stories I got straight from the source. I had limited interaction with my grandparents: one had a stroke before I was born and was basically the mean guy in the corner at family gatherings, one lived on the other side of the world (literally), my namesake died when my mother was a child, and one never really spoke all that much. While I have a basic grasp on my family tree thanks to an interest in genealogy as a teen, I don't have stories or close relations. Of course, this might be all the more reason to strike up a conversation with them now! But that leads me to my next point.
What make anyone so sure my ancestors are interested in me and my life? Some of them weren't so interested when they were alive, so why assume they feel differently now that they're dead? What about those who were Christian? Maybe they are hanging out with Jesus and don't want to enable their devil loving kin?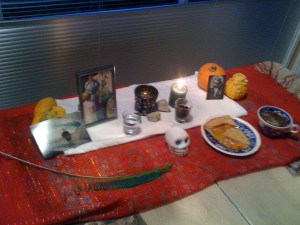 Fourthly, I don't know what to offer them. Many traditions seem to offer similar things: incense, various forms of alcohol, smoke in various forms, flowers, and so on. I don't know what things my ancestors liked. I offer water and incense. At Samhain I offer a few things: hot buttered tea to Victor (I heard he liked that), pie for Cora, a shot of something strong for my friend Tim, and some water and wine for the others, just to cover my bases. What if they were teetotalers? Ack.
You can see that my Ancestor work is fairly generic. However, several times a year I feel a prod to dig deeper, particularly regarding my namesake. Her death left painful, unresolved scars on my family. I am now older than she was at her death. I often wonder if more direct work with her could bring some healing to my family. Something feels very unresolved here, but I just don't know where to begin.
Yes, a good beginning would be sitting with her. I feel overwhelmed at the thought of having yet another spirit to sit with. You know, more sitting in all the quiet, uninterrupted time I have with three kids! But there's no other way forward, is there? Nothing is more effective for a beginning than just….. beginning.
I might want to get started. Samhain isn't too far off.
(I am wide open for advice if anyone wants to chime in!)