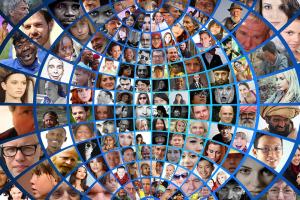 by Megan Schmidt
We are living in a challenging era of human history.
Last week, events unfolded that both divided us and united us. NFL players took a knee during the national anthem to protest inequality and police brutality against people of color. The mass shooting in Las Vegas, which was the deadliest in recent American history, took 59 lives and injured hundreds more.
"How did we get here? Why are we here? Where will this lead? I think we're in wait-and-see mode," said Morgan Freeman, when asked how he felt about the state of America days before the Las Vegas attack.
How often we forget that what unites us is stronger than what divides us.
"The Story of Us" will explore how love, belief, power, war and peace, rebellion and freedom shape cultures around the world in six, hour-long episodes. Viewers will join Oscar-winning actor and documentary producer Freeman on a mission to uncover the fundamental ties that keep our societies together, and to reveal the common humanity found within each person — regardless of where we live or what we believe.
Freeman was joined by fellow executive producers Lori McCreary and James Younger, the team behind the predecessor series "The Story of God," to discuss their new National Geographic show. They also shared what they learned about humanity in the process.
The timing of this introspective and eye-opening series wasn't a coincidence.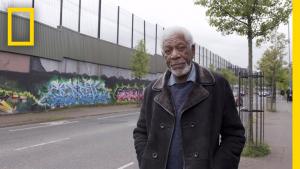 "In our lifetime, this seems to be the perfect time to bring out the sameness in us and play down the differences, much of which are just imagined differences," Freeman said. "We have had genocides and wars predicated on differences. Well, let's look at what's so different here. What's so different that you need to fight about it?"
It seems as though humankind is wired for tribalism. For thousands of years, humans have stuck to their own and demonized outsiders. While our tribes used to be based on geography, we became good at finding new ways to distance ourselves from each other — whether based on race, politics, gender, religion, economic status, sexual orientation and more.
But, at least we're talking about it, Younger said. The creators of the series hope to bring new insight to the national and global discourse about mending these racial, cultural and ideological fault lines.
"Now is the time in our history that we must learn how to get beyond that, how to keep the positive aspects of culture … and throw away the negative aspects of culture, the culture wars, the labeling other people as different or being full of bad traits," Younger said.
The series is a testament to the power of personal experience and storytelling. Freeman will interview people who have found themselves in high places, low places and everywhere in between. Here's a peek at a few of the individuals he meets:
Albert Woodfox: A man who was put in solitary confinement for 43 years at a Louisiana jail for killing a corrections officer. His conviction was overturned in 2014. He was finally released in 2016.
Paul Kagame: The president of Rwanda, a nation that healed after a horrific civil war. Freeman also speaks with a Tutsi who forgave the Hutu who killed her family.
Joshua Coombes: A London hairstylist who sparked a global movement to carryout everyday, random acts of kindness.
President Bill Clinton: The former U.S. president will share what it was like to lead the world's dominant superpower nation.
Patrisse Cullors: A founder of the Black Lives Matter movement will open up about how the abuse of her brother by police inspired her to take a stand.
Younger said that the inspiring and courageous people that viewers will hear from have figured out how to reach across the divides and are making a difference in the world. They've paved the path for all of us to follow in this pursuit.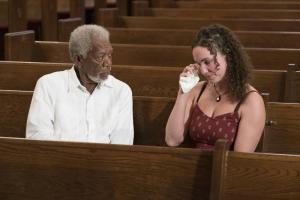 A name that surfaced in the interview was ex-Westboro Baptist Church (WBC) member Megan Phelps-Roper, who Patheos also spoke with about her involvement in the series. Granddaughter of church founder Fred Phelps-Roper, Megan Phelps-Roper shared her experience growing up on the WBC picket lines, wielding signs that said "God Hates Fags," "No Peace for the Wicked," and "Rabbis Rape Kids."
She faced a crisis of faith after befriending the very people she was taught to despise while managing WBC's Twitter page. Phelps-Roper said that engaging with people she met on Twitter challenged her in ways she hadn't experienced before.
"I was more open to those challenges because they were coming from people I had come to in spite of myself, and had grown to even like," Phelps-Roper said. "I am not just seeing them on a picket line angrily debating, I got to see them joking around with their friends and sharing pop culture references."
Diving into the nuances of WBC doctrine with her debate opponents and friends on Twitter was also a crucial factor that led to her departure from the church in 2012, she said.
"Before I ever had a question or a doubt, I already had the answer and the memorized chapter and verse as to why those other people and ideas were wrong. It's like a mental wall put between you and the rest of the world. It's especially powerful when paired with a fear of the outside and what will happen if you join them," she said.
From her story, she hopes people will learn that it is possible to change, as well as understand the blinding nature of certainty.
"The importance of doubt is crucial, because if you're certain that you're right and other people are wrong, you're not going to be able to hear evidence that contradicts you because of the power of conformation bias," Phelps-Roper said. "We are designed to protect these ideas that we have enshrined into our worldview. That's why it's so important to talk about these ideas with kindness and compassion and understand that even when people deeply disagree with each other, generally it's not coming from a place of ill will."
There are many stories like Phelps-Roper's in the series — stories about children who grew up in mental or physical prisons, who faced extreme hardship and dire circumstances. Somehow, they overcame them and emerged with enough compassion in their hearts to plant seeds of change in the world.
"What really grabs you is thinking about the fact that you're listening to someone tell you about their childhood. My childhood was running around, playing, being nice, having fun, not worrying too much about anything at that age," Freeman said.
Freeman said to think of the episodes as templates for how we could manage our own lives on a planet that's getting smaller and smaller.
For McCreary, her wish is that the series brings hope to a divided America.
"After seeing how these communities could come together after something so horrific like the Rwanda genocide, maybe it will make us more hopeful as we look at our country and worry about our future," she said.
Tune in starting Oct. 11 on National Geographic to watch "The Story of Us."
Megan Schmidt is a staff writer at Patheos.