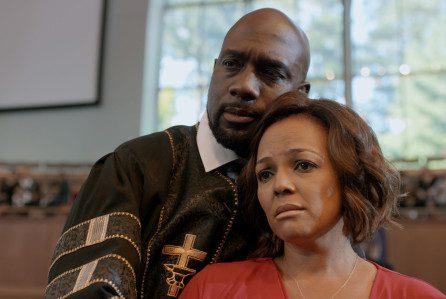 The power of prayer and forgiveness is at the heart of a new movie in theaters that follows three Christian families in Atlanta who cross paths in the wake of tragedy.
David Newman (Richard T. Jones) is about to succeed his father as senior pastor of a successful, predominantly African-American church. John Danielson (C. Thomas Howell) has high hopes for his gifted daughter who has a chance at signing a record label contract and providing financial stability for her family. Kate Hernandez (Jaci Velasquez) is a restaurant owner who employs her daughter, Maria (Karen Valero), as a delivery driver.
These families come from very different cultures and live very different lives in the same community, but a texting and driving accident brings them together to test their faith in ways they didn't think were possible. As these families collide and suffer crises of faith that will either tear them apart or bring them together, audience members will find themselves cheering, singing, crying and praising God along their difficult journeys.
In addition to challenging our notions of the limits of faith, this is a film that addresses some important social issues: texting while driving, organ donation and racial prejudice. Featuring multi-cultural characters was especially important in the making of this film.
"We wanted to show a variety to show the unity of all of us. Our unity is in God. And if your heart is there, you're in the right place. This film is about unity, forgiveness, God's grace. No color matters. We want people to be able to see themselves," said executive producer Dr. Cameron Lewis in a recent media interview. (1)
What also makes this film stand out is how relatable it is to one's life and how it encourages audiences to do a little soul-searching of their own.
"I would love for people to step back in their own lives and think about how they can be a better person to their fellow man," said producer Angela White in a recent media interview. "We want people to walk away knowing the word of God is there to comfort you and that having faith in what you can not see is okay, as God has your life covered, and the questions you may have are already answered." (2)
Watch the powerful trailer before you see the film on the big screen:
References:
http://www.sunherald.com/news/local/counties/harrison-county/article176250566.html
https://blackamericaweb.com/2017/09/26/a-question-of-faith-producer-angela-white-talks-about-the-film/