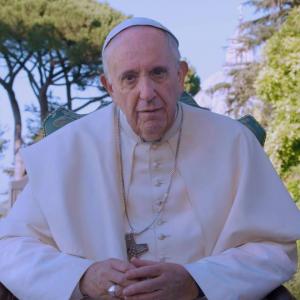 One theme of the new biographical documentary Pope Francis: A Man of His Word is right there in its title: that Pope Francis is authentic, honest. Director Wim Wenders says it bluntly: "Pope Francis is a living example of a man who stands for what he says." Another is that he is an inspiring leader for the world, not just the Catholic Church, not even just those who believe in God.
Both of these themes are reinforced throughout the film. And reinforced in unique and engaging ways. All of Wenders' acclaimed biographies are unusual, weaving together different elements to give you a deeper sense of the subject than a straightforward storyline ever could. They don't just tell you about the subject, they give insight into them. In this vein, Pope Francis: A Man of His Word explores Pope Francis as a person, a leader, and as an agent of change.
Pope Francis Up Close
In the main element of the film, we are given lots of time up close and personal with the pope, as he speaks to the camera directly, answering people's questions on a range of topics including social justice, immigration, ecology, wealth inequality and the family. This is a startlingly intimate experience to have with a pope, though not so much with Pope Francis, who is noted for his willingness—eagerness even—to interact with regular people.
In another element, we follow Francis around the world as he speaks to the U.N. General Assembly and to inmates in a prison, to the U.S. Congress and to refugees in a camp. We see the way he leads, and the way he relates to people.
A third element takes us deeper into the pope's nature and his interests through interludes exploring the saint whose name Francis took. Saint Francis may be a relatively noncontroversial figure today, revered as a key figure in the history of the church. But the pope's decision to be the first ever to take his name offers us more insight into his worldview than many realize: in his time, St. Francis was a radical reformer, denouncing power and wealth, celebrating humility and a willingness to look foolish, seeking peace with Islam, and revering and celebrating nature.
All three elements—his direct, frank talk about his sometimes controversial views, his challenging of world leaders through both words and example, and the peek into his namesake's historical role in the Church—woven together, point to the radical change Pope Francis represents for the papacy and for the Roman Catholic Church. Francis is a pope with different views and a different style, and he is determined to leave his mark by restoring public trust in the Church and by emphasizing the pastoral role of priests and the institutional church.
The Quirky and Beautiful Films of Wim Wenders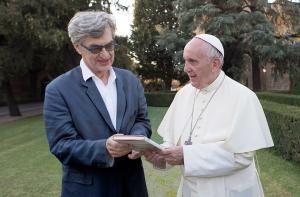 Pope Francis: A Man of His Word
has been eagerly anticipated for several reasons, but the most intriguing is its director, three-time Academy Award nominee and Cannes Best Director Wim Wenders.
Wenders is beloved by filmgoers for a long and rich career. He exploded onto the American indie film scene in 1984 with Paris, Texas. But the work that cemented Wenders' place both as a narrative filmmaker and as an artist who deals with issues of faith is what came next: Wings of Desire (1987)—a quirky and beautiful fantasy film about angels in modern-day Berlin, which is widely recognized as an important achievement, earning many awards and making many "best of" lists. While Wenders' handling of religious issues in the film is too irreverent and indirect for some tastes (God is never mentioned), many love his artistic handling of the subject. Roger Ebert said the film had "a mood of reverie, elegy and meditation."
And count the Vatican enthusiastically in the latter camp. This was no accidental collaboration. Prefect of the Secretariat for Communication of the Holy See, Msgr. Dario Edoardo Viganò, points directly to Wings of Desire: "Whenever I think of Wenders' poetics I see before me the angels that feature in Wings of Desire and [its sequel] Faraway, So Close! They are angels that, though perfectly pertinent to both the biblical and literary worlds, have very little in common with the devotional stereotype. Wenders is aware that it is how we view the world that makes it pure or impure: a burden of responsibility we are constantly aware of when watching his documentary works." That, he says, led to a direct invitation from the Vatican, which developed into this movie project.
Wim Wenders continues to make successful narrative films, but he began gaining recognition for a string of documentaries—often biographies, often concerning the creative process, and always telling it slant. His window into Ry Cooder's making of a record with a group of aging Cuban musicians, Buena Vista Social Club (1999), caught fire, netting over seven times as much at the box office as Wings of Desire, and earning an Oscar nomination. This was followed by Pina, a biography of dancer Pina Bausch that is really an extraordinary look at modern dance, and The Salt of the Earth about Brazilian photographer Sebastião Salgado, both also nominated for Oscars.
Combine Wenders unconventional biography style with an unconventional pope eager to connect with the people, add unparalleled access provided by the Vatican, and Pope Francis: A Man of His Word delivers an extraordinary chance to get to know this beloved pope who stands at a critical moment in the history of the Church, and seeks to make his mark.
Pope Francis: A Man of His Word opens nationwide on May 18, 2018.